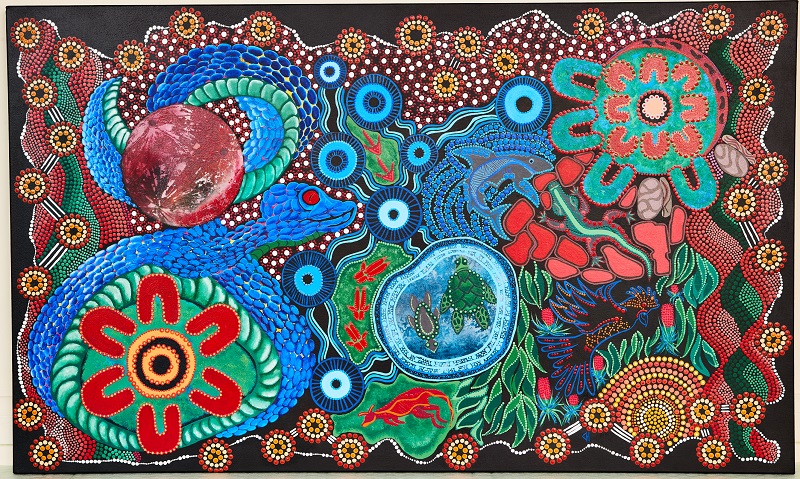 Nyitting Wanneroo by Courtney Hill
Marangaroo resident and Noongar artist, Courtney Hill, has translated thousands of years of local storytelling into a bespoke artwork, Nyitting Wanneroo, that takes people on a journey through the City of Wanneroo's Aboriginal history.
The large-scale canvas artwork, which forms part of the City's refreshed brand, brings the unique stories of the region's significant Aboriginal heritage to life
Nyitting Wanneroo encourages the community to come together to learn about, understand and celebrate Aboriginal culture and build on the conversations around reconciliation.
It captures the artist's interpretation of the region during the Nyitting or Creation time for Noongar people, when the land was still, quiet and cold.
Aboriginal Artist Courtney Hill talks about what Nyitting Wanneroo means to her
In the black night sky, the moon glowed red and the stars descended, ready to shine on the dawn of all nations. The ancestral serpent, Waugal, created our mother, this land. The waterways, landforms, plants, animals and all living things were formed.
The giant goanna that is fighting with shark symbolise how Ocean Reef, Rottnest Island and Garden Island were formed. The rocks around the goanna and shark represent the 14 Noongar language groups.
Wanneroo's lake systems are depicted as blue circles connected to each other, with turtles swimming in Lake Gnangara.
The red-tailed black cockatoo feasts on Banksia flowers, woken for a new season by the sun on the bottom right. Kangaroo grazes on the fresh grass and his footprints are left on the edges of the lakes as he disappears. Emu has already gone, but has also left his footprints on the green land by the lakes.
There are family groups of women and children on the right. The women are sitting with wooden vessels and digging sticks. The children being in the inner circle represent the women as protectors and teachers.
The men are on the left, encircled by Waugal to safeguard their minds and bodies.
On the outer edges are the 36 newcomers' campsites, representing the suburbs of Wanneroo, with travel lines connecting all of the City of Wanneroo as one place.
I thank all Aboriginal Elders and seniors, and all those who have shared important cultural knowledge, for me to hold and for me to impart.
- Courtney Hill