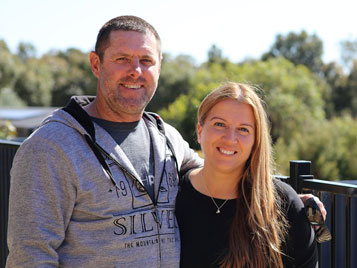 Rescuing neighbours' animals during the devastating 2019 Yanchep bush fires inspired a Two Rocks couple to join their local volunteer bush fire brigade.
Tam and Cal chose to stay and defend their property as the dangerous blaze headed north from Yanchep.
In an effort to contain the fire, local roads were closed, leaving many animals stranded on neighbouring properties.

Poor mobile phone signal forced Tam to drive daily to the top of a hill to get enough reception to update the community on Facebook.
"Through social media, we managed to find our neighbours' animals – chickens, ducks, cats and dogs – and fed them day and night during those awful fires," she said.
"The community were just amazing, we all came together and helped take care of each other."
After surviving the fire and dealing with the aftermath, Tam and Cal were inspired to join the Two Rocks Volunteer Bush Fire Brigade.
"When the blaze started I felt so helpless, but deciding to stay and help our neighbours was a real turning point and I learnt so much," she said.
"I think it's really important to be connected with your neighbours and the community – if something unthinkable happens, they will be the ones who can support you."