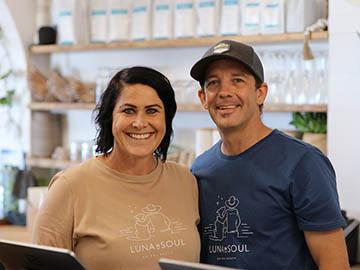 A Quinns Rocks beachside business has been overwhelmed by the support of the community who have rallied behind them.
Till and Will opened Luna n Soul earlier this year, a café named after their adorable kelpie-border collie Luna.
Till said the support of the Quinns Rocks community has been "amazing".
"The kind of support we have received is what makes Quinns such a special place, people look after each other here," she said.
Knowing the difficulty many local businesses have faced over the last two years, Till said they shop local and use local suppliers.
"From the honey just down the road, to the meat from Yanchep and the dairy from Gingin, I think it's important to support local businesses," she said.
"Quinns residents come for coffee, a chat, and a lick from Luna every day – we just love our community and you just can't beat those beautiful ocean views."
Till and Will ran Commando Coffee in Yanchep for four years, before deciding to expand their operation into a café.