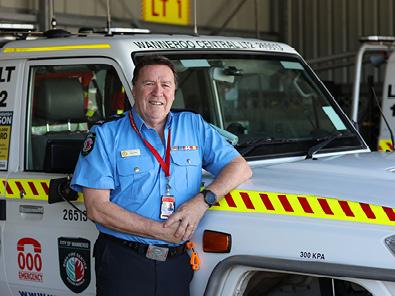 Saving lives is all in a day's work for volunteer bush firefighter Greg Pobar.
The Wanneroo Volunteer Bushfire Brigade Deputy Chief – a volunteer of 15 years – was on-call during the dreadful 2019 Yanchep bushfires.
With the blaze becoming more unpredictable and forcing road closures, Greg received a call from the communications centre who had received multiple calls from two teenage boys.
The pair were trapped in their house with fire rapidly approaching.
Greg set off to help, driving into the head of the fire to the farm house, hitting the horn to let the boys know he was there.
"The skies were forbidding, the sunlight wasn't coming through – you just get that air of understanding that this is not the right place to be," he said.
"The boys ran out pretty bright-eyed impressively, I think it would have been a horrible experience for them. And further to my surprise they had two dogs who were even more excited about what was going on.
"I told everyone to pile in and we were out of there!
"I'll never forget driving out with the two boys and two dogs, all of us just breathing a sigh of relief we managed to get out of there."
Greg managed to reunite the boys with their father and said due to road closures "there was no way he could have made it back to them".
He said living near beautiful bushland areas like Yanchep provided a great lifestyle, but did bring risks.
"It's important to talk to kids about the risks of living near bushland and to have a bushfire plan," he said.
"These boys knew exactly what to do and kept in contact with us the whole time."