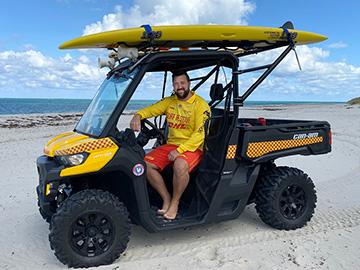 Volunteer surf lifesaver Richard Lissett has helped bring a local club into the twenty-first century, using the power of the cloud to upskill members.
Richard first got involved with Quinns Mindarie Surf Life Saving Club as a parent helper when his son joined the Nippers program in 2015.
He then coached his daughter's Nippers group, before completing his Bronze Medallion course at the same as his son completed a Surf Rescue Certificate, allowing the pair to spend time together patrolling Quinns Beach.
Richard said surf life saving was a great way to give back to the community.
"I take satisfaction running a Nippers session on a Sunday morning where we are educating and developing our local kids in surf awareness and the necessary surf skills to be safe at our local beach and hopefully encouraging them to become our next wave of lifesavers," he said.
"I also get satisfaction out of putting on the red and yellow, patrolling and being present at the local beach, supporting events like the Mindarie Marina Swim, abalone patrols or Remembrance Day services.
"I am a big believer in the more you put into it, the more you get out of it."
It wasn't long before Richard found himself taking on different roles at the club, including four officer roles and joining three committees.
Using his background in IT, he created the club's first IT committee.
"We set up an IT committee to tackle the challenges of our growing club," he said.
"I helped put in place a cloud computing system as well as Google Suite which allowed for remote meetings and training, which was vital during the pandemic."
Richard also led the club through an upgrade of IT infrastructure and information management, firmly bringing the volunteer lifesavers into the twenty-first century.​