General Project Update - 6 March 2020
The City's contractor is now into its tenth month on site and works are progressing well.
There have been small delays due to the requirements of external stakeholders, including the relocation and extension of the Water corporation water main (DN700) adjacent to Cinnabar Drive and the relocation of a number of Water Corporation assets between Graceful Boulevard and Brindabella Parkway. The current practical completion date is the end of April 2020.
Section 2 – 8km from Shorehaven to Yanchep Beach Road
This is the longest section of the project which includes four new roundabouts. So far, three have been completed with the roundabout at Cinnabar Drive yet to be constructed.
The intersection of Lagoon Drive and Marmion Avenue is progressing well and the contractor has advised that the 'left in/left out' traffic movement for vehicles heading north should be open at Lagoon Drive within two weeks.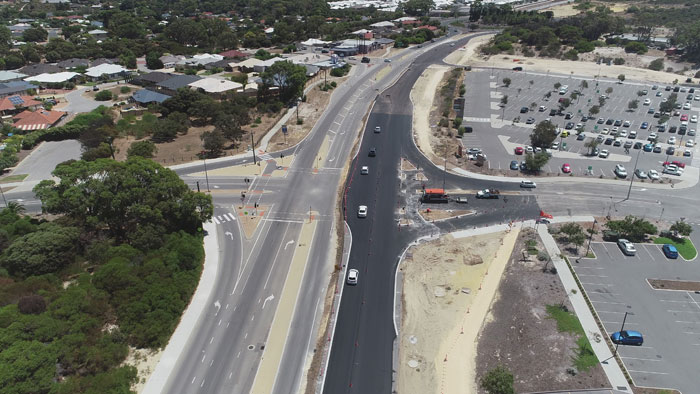 Lagoon Drive and Peony Boulevard, Yanchep
Section 2 – 8km from Shorehaven to Yanchep Beach Road
Phase 1 - Camborne Parkway to Sanderling Street
The streetlights have been installed and are scheduled to be powered in mid-March. These are the first LED streetlights in the City. Signage and line marking will be carried out by Main Roads WA during March.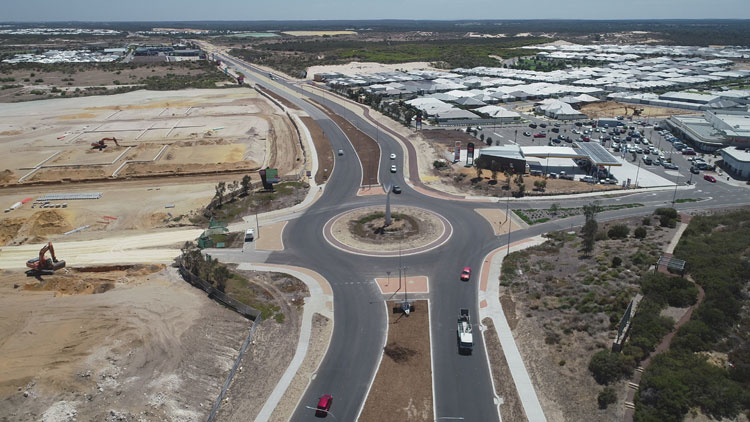 Santorini Promenade, Jindalee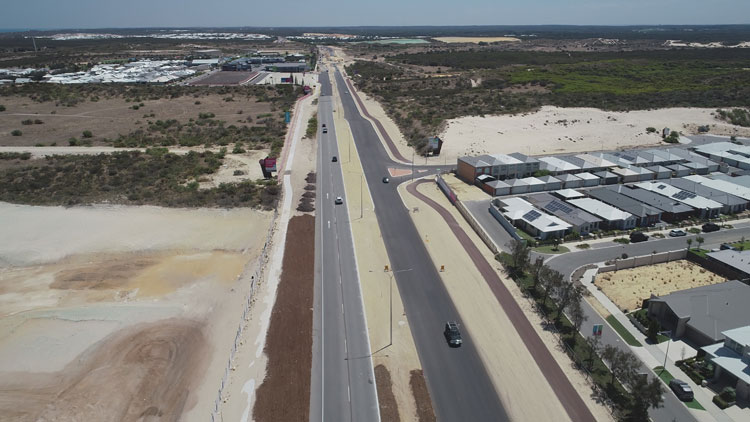 Darbyshire Street, Alkimos
Phase 2 - Sanderling Street to Alkimos Vista
Work is continuing with the recent opening of Brindabella Parkway which will provide access to the future Metronet rail station at Alkimos Central.
The contractor and the Water Corporation are in the process of relocating Water Corporation assets so that they sit within the future Marmion Avenue verge.
Once relocated, the contractor will focus on completing the new carriageway along with the eastern portion of the new signal intersection at Graceful Boulevard and Romeo Road, which will be the future connection to the Mitchell Freeway.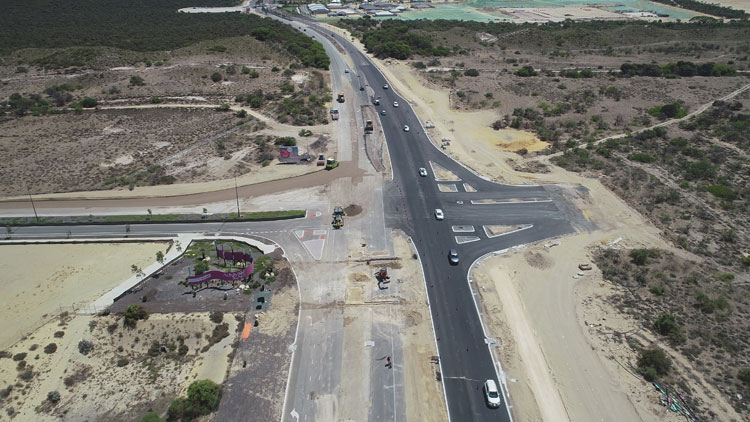 Brindabella Parkway, Alkimos
Other works
The Water Corporation is in the process of having the water main (DN700) on the west side of Marmion Avenue near Cinnabar Drive extended further north to improve water pressure for its northern users.
Traffic impacts
As with major infrastructure projects, drivers may experience some delays during peak times and patience and caution is recommended. The City will communicate during times when longer delays are expected and provide advice on sections of road best avoided and alternative routes.
There will be sections where traffic will be diverted onto the new south bound carriageway to incorporate works on the existing northern carriageway and existing intersections. This will occur over March and April at the following locations:
Graceful Boulevard, Alkimos
Lagoon Drive, Yanchep
Cinnabar Drive, Eglinton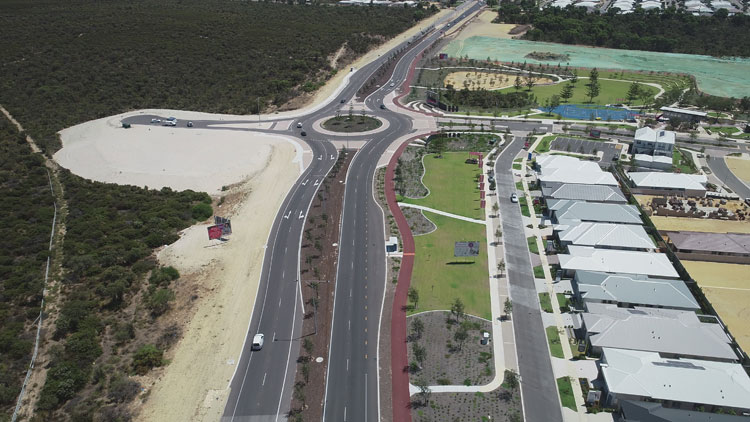 Alkimos Vista, Alkimos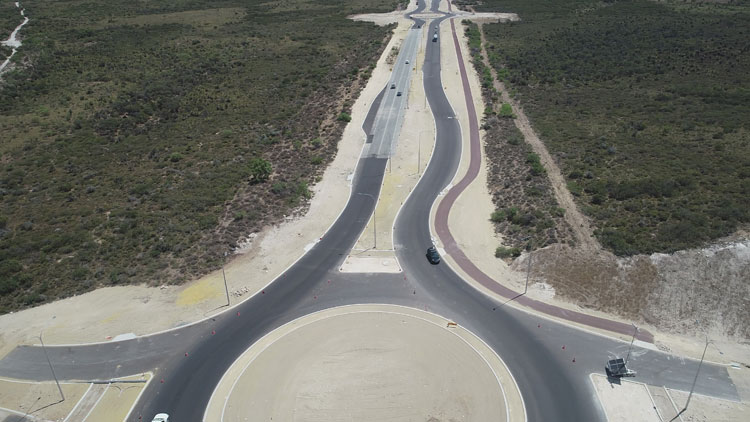 Eglinton Drive, Eglinton
Further information
Phone: 9405 5000
Email: enquiries@wanneroo.wa.gov.au