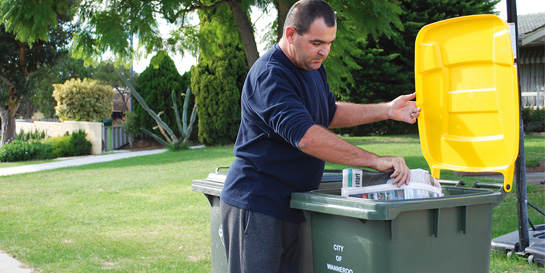 The City of Wanneroo's Great Recycling Challenge (GRC) is a household waste education program that aims to improve the recycling habits of residents and reduce contamination in waste and recycling bins.
Great Recycling Challenge information flyer
The City's friendly Waste team will visit a random selection of 1,800 houses across the City's 36 suburbs. The team will conduct simple visual checks of kerbside bins and provide feedback on tags left on bin handles. By taking the time to recycle correctly, you'll be eligible to go into the running to win prizes.
Great Recycling Challenge 2019 - Terms & Conditions
Remember, only the following items should go into your yellow lid recycling bin:
Aluminium and steel cans (clean, empty)
Glass bottles and jars (clean, empty, lids off)
Plastic bottles and containers (clean, empty, lids off)
Cardboard (flattened)
Paper (excluding shredded paper, paper towels and tissues)
What are you doing looking in my bin?
The City's Waste team will do a simple visual check of the contents of each household's waste and recycling bins to see if there are items that do not belong. The team will then leave feedback on a tag attached to the bin handle. The tags provide individual information about how each household can help maximise our community's recycling efforts.
Households who receive a smiley face tag will be entered into the relevant prize draw for that period.
The program will follow the Western Australian Local Government Association's (WALGA) guidelines for bin tagging. Similar programs have been conducted with great success in WA, nationally and internationally.
1,800 households across the City of Wanneroo have been randomly chosen to take part in the program. We will only be checking the content of recycling and general waste bins presented for collection in these specific areas. Each property selected to take part will be visited multiple times over an eight week period.
How will I know if I am a selected property?
You will receive tags on your household bins presented for collection during the last week of October or the first week of November. A letter introducing the GRC along with an information flyer will be placed in the letterbox of each selected property on the first visit by the City's Waste team.
Unfortunately there is no opportunity to opt in for this program because all properties are randomly selected. If you aren't a selected property this time, the City plans to conduct future bin audits. Continue to practise recycling correctly and you could be in with a chance to be chosen.
Do I have to participate if my house has been randomly selected?
This program is designed to improve your recycling confidence and knowledge, to benefit the environment, improve waste recovery and reduce what goes to landfill.
The City's Waste team will not be going through your bin and will only do a quick visual check.
If you would still like to opt out, please provide your details via this online form.
Recycling in WA has changed and it's even more important than ever to put the right things in the right bin. The City has communicated these changes in a number of ways, including visits to schools, community workshops, waste and recycling guides sent direct to households, newspaper articles and social media campaigns.
We know our community is passionate about recycling and try their best to recycle correctly. We also know that there is increasing confusion about what can be recycled at home. A recent survey conducted by the City revealed that half of residents don't feel like they receive enough information about waste and recycling.
The aim of this project is to reduce waste to landfill and improve recycling rates in the City of Wanneroo through education. This will save our ratepayers money as well as making our recycling stream stronger and more effective.
Through tailored feedback on the contents of your bin, you'll learn whether you're on the right track, or how you can improve.
According to WALGA, bin audits can reduce contamination in bins by up to 60% and increase the amount of recycling by 25%. We want to achieve this outcome in the City of Wanneroo for the benefit of our community and the environment.
What information do you record?
We will record the types of contamination, if any, and the level of that contamination. We will also record if a bin is at capacity or too full. This information will be recorded against the property address and be used to track improvement over time. It will also be used to determine entry into the prize draw. We will also record the names of winners of prizes for our financial auditing requirements.
The data gathered as part of the audits will help to provide feedback to our community to encourage positive change. It will also assist the City with managing and future planning our kerbside collection services.
Who will have access to the information?
How do you choose where to inspect?
The City of Wanneroo has over 70,000 households across its 36 suburbs. A total of 1,800 households have been selected to participate in the pilot program; 600 from each Council Ward.
Waste and recycling collection days, truck rounds and topography have all been factored into the random selection of households.
Why is the waste bin inspected? Can't I put anything in this bin, especially if my recycling bin is full?
With the changes to recycling in WA, our community is being encouraged to 'leave it out of the recycling bin when in doubt'. Some people are concerned about contaminating their recycling bin and are putting recyclable items in their waste bin. Our auditors will be checking the waste bin to see if there are recyclable items so they can let you know.
You've also told us that sometimes your recycling bin is full, so you have no choice but to put recyclables in the waste bin. We understand that this is a challenge, and future bin options will include the opportunity to upgrade to a larger 360L recycling bin to assist with this.
How do I enter the City of Wanneroo's Great Recycling Challenge prize draw?
You enter the draw simply by taking the time to ensure your bins only contain acceptable materials and being one of the randomly selected households.
As part of this program, if you receive 'Thank You' tags on your recycling bin, you automatically go into a daily draw to win a $100 Visa gift card on our first two visits. All households who have a 'Thank You' tag on their recycling bin on our third visit, even if they didn't previously, will be entered into the final grand prize draw to win one of six $410 cash prizes. Winners will be notified by phone or mail.
If you live in a strata or multi-unit residence please note your unit number clearly on your bin to help us identify you, so that we can include you in the lucky draw.
How do we dispose of the bin tags? Can they be recycled?
The tags have been printed on recycled paper and are able to be thrown into your yellow lid recycling bin.
The tags also provide a handy checklist of what items can be recycled, so you are also welcome to keep this tag for future reference.
Have Your Say
Do you have something to say about The City of Wanneroo's Great Recycling Challenge? You can also share your thoughts and ideas with us and the community online at the Great Recycling Challenge Your Say page.
Great Recycling Challenge Your Say
Daily Prize Winners 28 October – 22 November 2019. $100 Visa gift card.
Visit 1 Round
Johannes, Two Rocks
Nina and Jonathan, Ridgewood
Charmaine, Clarkson
Vic and Vida, Landsdale
Charlotte, Banksia Grove
Rosemary, Alexander Heights
Josephine and John, Quinns Rocks
Giselle, Yanchep
Rodney and Judith, Mariginiup
Andrew and Nicola, Wanneroo
Visit 2 Round
Amanda, Two Rocks
Brian and Janice, Butler
Edward and Jessica, Mindarie
Margaret, Darch
Hendrik and Shani, Tapping
Graham, Alexander Heights
Julie, Hocking
Renae, Ashby