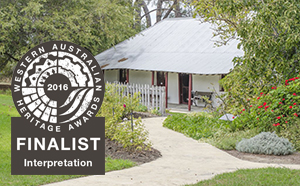 PLEASE NOTE - DUE TO THE EXTREME HEAT FORECAST, COCKMAN HOUSE WILL NOT BE OPEN SUNDAY 15 DECEMBER.
Discover this heritage gem and the people that live here, in the oldest remaining house in the Wanneroo area. Cockman House provides a unique opportunity for teachers and students to encounter what life was like in the past and learn about the families that lived here over a 130 year period.
Completed in 1860, this family home of three generations is a rare historic place of continuous residence by descendants of the original building. It presents a pioneer story that began with James and Mary Ann Cockman at the beginning of the Swan River Colony and progresses alongside the development of the Wanneroo district.
Education bookings: Please note that Cockman House school programs are now booked out for Term 3, but there is availability left for Term 4, 2019. Bookings for 2020 can be made from September 2019 onwards for City of Wanneroo schools. Other schools may book from November 2019 onwards.
Virtual Tour
Visiting hours
General public
Every Sunday 2:00pm - 5:00pm Closed all of February
Entry by donation
For more information:
Phone: (08) 9405 5905
Email: museum@wanneroo.wa.gov.au
School groups
Tuesday, Thursday & Friday 9:30am - 2:00pm
For more information:
Phone: (08) 9405 5905
Email: museum@wanneroo.wa.gov.au
Location
Due to major roadworks, the entrance of Cockman House has now changed to Ancestor Retreat (off Woodvale Drive). A new footpath is being built from the new carpark to the house, but is currently under construction. There is limited parking closer to the house: please let onsite staff know if you require parking in closer proximity.
Entrance on Ancestor Retreat, Woodvale Drive. Click below to view a map.
Drop off area
Buses can drop off in the public car park on Ancestor Retreat.
Entry/access
The front section of Cockman House is wheelchair accessible from the front entrance although larger electric wheelchairs may not fit through the front door. There is a step down from the lounge to the kitchen, and a further set of wooden steps to the back verandah. It is possible to get behind the house via path and grassed surface.
Trained guide or assistance dogs
Visitors accompanied by a Trained Guide or Assistance Dog or a dog undergoing such training are welcome in this site.
Toilets
The male and female toilets are both wheelchair accessible.
Education programs - all $5.00
Foundation and Year 1 - Peg dolls & Cockman family history
Children discover the chores and domestic technology of the 'olden days' and compare their own lives to the children that lived in Cockman House. Making a peg doll helps to reinforce the idea that toys were often homemade from available materials.
Year 2/3 - Heritage alphabet
In small teams, students find clues about what life was like in the past for the Cockman family. Each clue begins with a different letter of the alphabet. Crack the heritage code at the end using clues discovered along the way. The session closes with a guided drawing task to examine the significance of Cockman House.
Year 4/5 - History hunter activities
Students explore the history of the Cockman family and respond to brief inquiry activities whilst exploring this historically significant site, provoking thought about the challenges and innovation of Wanneroo's early settlers.
For more information contact Gabrielle Grime - Education Officer
Phone: (08) 9405 5905
Email: museum@wanneroo.wa.gov.au