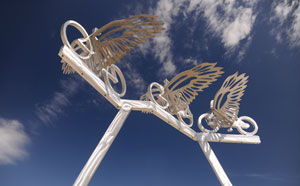 Public art of the month - May 2018
This flock of silver bicycles created by sculptor Tony Pankiw and named "The Enlightened Bicycles" is sure to inspire. Complete with a fully functional bike rack, this fun and evocative public artwork is located at Pearsall Hocking Community Centre and is designed to promote the benefits of an active lifestyle by encouraging community members to walk or cycle to the centre.
Location - Pearsall Hocking Community Centre, Willespie Drive, Pearsall
Public art of the month - April 2018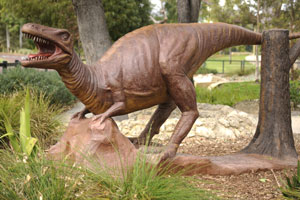 If you visited Kingsway Regional Playground in Madeley, chances are you have spotted a throwback to the Jurassic period.
Ozraptor and Skeletal Bones by Mehdi Rasulle was fabricated from stainless steel and concrete and coloured with oxides.
Near the dinosaur is a fossil of an ozraptor skeleton buried in sand that allows kids to play paleontology by digging and uncovering the fossil.
The ozraptor was a theropod dinosaur that roamed the Australian continent during the Jurassic Period while Australia was still a part of Gondwanaland.
Public art of the month - March 2018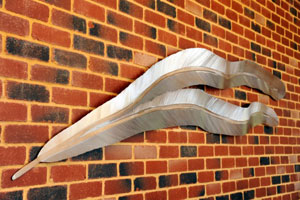 Emu Feather created by Si Hummerston and located the foyer at Koondoola Community Centre makes reference to the meaning of the Noongar word 'Koondoola' being 'Place of Emu', this stunning work is created of polished aluminium with areas of translucent colour that seem to change as you walk past.
More of Si Hummerston's work can be seen in the grounds of Koondoola Community Centre including Bush Walk which consists of three life-size unique figures made of corten steel and jarrah. Each work uses a 3D shadow box design with 2D cut outs that form a bushland vista inside the body of each piece. They also include native flora and fauna such as kangaroos and emus that were common to the area

Public art within the City of Wanneroo
Public art is in our everyday environment and can create a unique sense of place and enhance community ownership of places. Public art has a number of benefits including improving the attractiveness and functionality of the built environment, to produce landmarks that act as focal points and icons for the City, recognising local heritage and contributing to cultural tourism.
The City of Wanneroo has a number of public artworks in parks, road reserves and public buildings.