Prohibited Burning Period from Monday 18 November 2019
The City's Chief Bush Fire Control Officer has varied the Prohibited Burning Period to commence from 12:01am Monday 18 November 2019 to 31 March 2020 inclusive.
Home
Budget 2019/2020 – Delivers value for money and financial responsibility
Published Friday, 28th June 2019
The City of Wanneroo has adopted a practical and value for money budget that responds to community needs.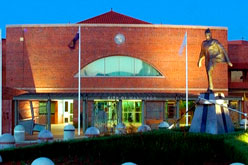 Mayor Tracey Roberts said Council has attentively listened and responded to community expectations and aspirations, adopting a budget that meets the needs of ratepayers, residents, businesses and community groups.
"The budget provides excellent value for money, while also recognising the difficult financial climate we, along with our residents, are experiencing," she said.
"This year's residential rate rise equates to an average of 45c a week, and ensures the City continues to deliver services and facilities to enable communities to connect, thrive and prosper.
"Almost $77 million has been allocated in the varied capital works program to maintain and upgrade existing infrastructure, and construct new infrastructure to support and connect our community in the coming years.
"Our capital works focus on high quality, long term investments to build sustainable and vibrant communities. Environmental conservation, park enhancements, road upgrades and sporting facilities are a large portion of the expenditure.
"A driving factor in this year's budget was to ensure residents feel a sense of pride in their local neighbourhood and the City."
2019/2020 BUDGET AT A GLANCE
$76.8 million capital works program includes:
$24.7 million for roads, lighting and pathways
$27.2 million for sporting facilities
$5.7 million for parks and playgrounds
$150,000 for community safety.
ACROSS THE CITY
Footpaths and bike paths $882,000
A range of footpaths, cycling paths and shared paths will be upgraded or constructed to improve connectivity and accessibility for our community.
CCTV upgrades $150,000
Recognising that a sense of safety is important to our community, upgrades to the City's CCTV network will link all CCTV sites to a centrally located control room to ensure easy access to footage.
Parks and playgrounds $5.7 million
Parks across the City will be upgraded to provide places for our community to connect, be active and enjoy our natural environment. This will include replacement of playground equipment, rubber softfall, shade sails and barbeques.
Waste $27.9 million
A focus on waste services and an increased commitment to reducing waste to landfill.
NORTH COAST WARD
Halesworth Park $7 million
Halesworth Park (formerly known as Butler North District Open Space) will deliver more sporting and recreational opportunities for a range of sports. The complex will include two floodlit multipurpose turf playing ovals, 16 multi-use hardcourts and an amenities building, cricket nets, a sports pavilion with change rooms, a dual-use running track, picnic facilities and children's play area.
Quinns Beach $2.1 million
Long-term coastal management works to address erosion along the Quinns Beach coastline (stage three) will continue including the extension of groyne three, near the intersection of Camira Way and Ocean Drive, and extensive beach renourishment works.
Yanchep $680,000 (including $450,000 from the State Government)
Design and construction of a new skate park at Splendid Park, commencing in December/January, construction is set for completion by mid-2020.
Mindarie $410,000 (Partially allocated in 2018/19 budget)
Construction of the shared coastal path between Mindarie and Burns Beach is scheduled to begin in July. The State Government has funded $2 million of the $2.9 million path, with the Cities of Wanneroo and Joondalup splitting the remaining costs.
CENTRAL WARD
Neerabup Industrial Area $750,000
The City's vision for Neerabup Industrial Area (NIA) is for a business and technology park that will generate local employment for up to 20,000 people. Works during 2019/20 include subdivision engineering design, resource extraction and earthworks, environmental studies and reports,
renewable energy supply feasibility studies and a water supply engineering study.
Banksia Grove $4.2 million
Continued construction works on Pinjar Road between Blackberry Drive and Joondalup Drive for a four-lane dual carriageway.
Wanneroo $261,000
Rehabilitation of Lake Badgerup, including weed control, seed collection, planting and maintenance at the 17 hectare site surrounding the lake.
SOUTH WARD
Southern Suburbs Library, Landsdale $301,250
The City's southern suburbs will receive a new library, with a proposed site being considered adjacent to Landsdale Forum, overlooking Broadview Park. Construction is scheduled to commence in 2021/22 and is earmarked for completion in 2023. The overall project cost is $7.3 million.
Sports floodlighting $558,000
Sports floodlighting is being installed at four parks across the South Ward - Hainsworth Park, Girrawheen; Paloma Park, Marangaroo; Ferrara Park, Girrawheen and Koondoola Park, Koondoola.
Skate Park, Landsdale $600,000
A family friendly skate park will be created in Warradale Park in the shape of a snake to represent nearby Snake Lake. Currently in the design phase, the facility will feature skate ramps, BMX tracks, pedestrian walkways, seating for spectators and lots of green spaces to make the recreation hub amenable to people of all ages.
Kingsway Netball Clubrooms, Madeley $2.1 million
Upgrade scheduled for completion by March 2020.
More articles in the news archive.