Prohibited Burning Period from Monday 18 November 2019
The City's Chief Bush Fire Control Officer has varied the Prohibited Burning Period to commence from 12:01am Monday 18 November 2019 to 31 March 2020 inclusive.
Home
New Deputy Mayor for City of Wanneroo
Published Tuesday, 29th October 2019
The City of Wanneroo has a new Deputy Mayor.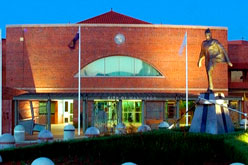 Central Ward councillor Frank Cvitan has been voted in as Deputy Mayor by his fellow elected members at tonight's Special Council Meeting.
Cr Cvitan was elected for a two year term, with the role being re-elected every Ordinary Council Election cycle.
Councillors were able to nominate themselves or another Councillor for the role, with a secret ballot held to appoint the position.
The City thanks Cr Natalie Sangalli for her dedication and commitment to the role during the previous two years.
Elected members were also appointed delegates to various committees, advisory groups and working groups during the Special Council Meeting, and council meeting dates were set for 2020.

More articles in the news archive.