Prohibited Burning Period from Monday 18 November 2019
The City's Chief Bush Fire Control Officer has varied the Prohibited Burning Period to commence from 12:01am Monday 18 November 2019 to 31 March 2020 inclusive.
Home
Wanneroo Road & Joondalup Drive Intersection closure 22 - 25 November 2019
Published Thursday, 7th November 2019
The Wanneroo Road and Joondalup Drive intersection will be closed after 8pm Friday 22 November to 5am Monday 25 November 2019 to allow work crews to install 16, 120-tonne bridge beams safely.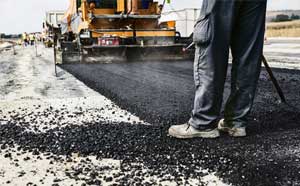 PLEASE NOTE THIS INFORMATION IS PROVIDED BY MAINROADS WA
Detours will be in place to direct traffic around the intersection. The detour routes will be the same as those implemented during the intersection closure in July 2019.
Detours
Right hand turn from Joondalup Drive into Drovers Place will be re-opened for the weekend ONLY.
Access to Drovers business precinct will be via Joondalup Drive heading eastbound or Wanneroo Road heading northbound.
Egress from Drovers business precinct as follows:
- westbound along Joondalup Drive.
- onto Wanneroo Road northbound.
Wanneroo Road will be closed at Neerabup Road/Flynn Drive.
Left hand turn from Joondalup Drive into St Stephens Crescent will remain open. (no right hand turn)
Vehicles heading east/west to use Ocean Reef Road or Neerabup Drive.
Vehicles heading north/south to use Mitchell Freeway or Pinjar Road.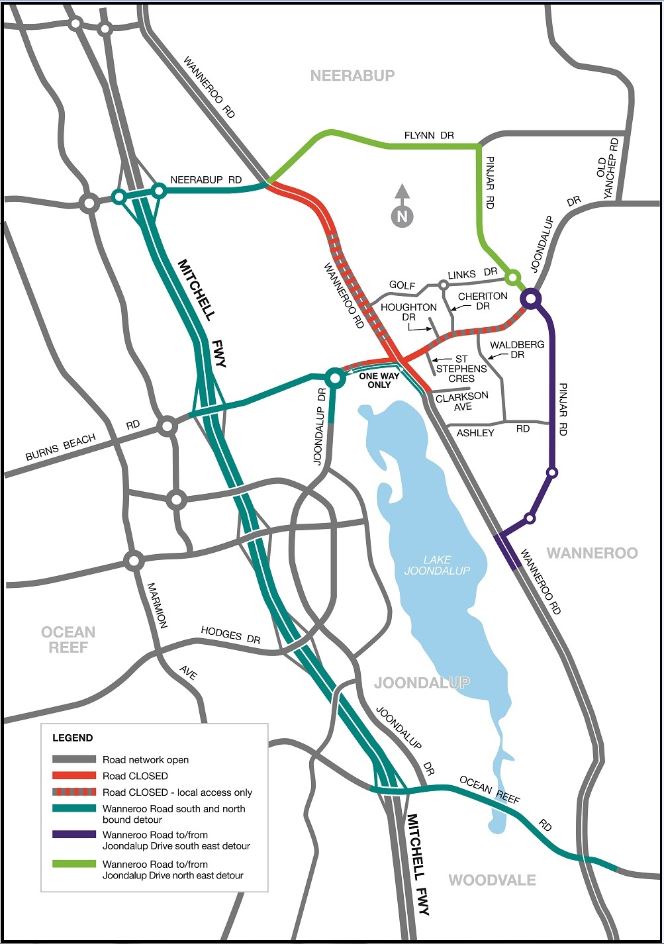 What to expect
Right hand turn from Joondalup Drive into Drovers Place will be open after 8pm Friday 22 November, once the roundabout is closed, until 5am Monday 25 November ONLY.
- The right-hand turn will be under traffic management to allow the traffic to flow safely.
- Following the weekend, the roundabout will be reopened allowing drivers to u-turn and turn left into Drovers Place.
Egress from Drovers business precinct onto Wanneroo Road remains unchanged – left turn only.
Pedestrians and cyclists will still have access through the intersection via the current detoured paths.
Works will be undertaken 24/7 – starting after 8pm Friday finishing Monday 5am.
Bus routes 390T, 390F, 391T, 391F, 467T, 468T will detour around the closed intersection.
More information on bus detours will be available closer to the date by visiting https://project.mainroads.wa.gov.au/home/ or https://www.transperth.wa.gov.au/
When the intersection reopens, it will continue to operate as a roundabout.
Out of hours work
Some out of hours works will be required to ensure the intersection is ready for the bridge beam installation. Out of hours works will be undertaken during the following times:
7pm to 7am - Friday 1 November to Saturday 2 November 2019
7pm to 7am – Monday 4 to Friday 8 November 2019
8am to 5pm - Sundays 10 and 17 November 2019
7pm to 7am - Friday 22 November 2019 to Monday 25 November 2019 (beam installation weekend)
Upcoming dates
The bridge should be trafficable by April 2020.
The intersection is due for completion mid-2020.
Works on Clarkson Avenue and Wanneroo Road intersection, Cheriton Drive and Joondalup Drive roundabout, and Burns Beach Road roundabout will commence in the New Year.
More articles in the news archive.