Home
Tri Cities Alliance presents united front at Parliament House
Published Wednesday, 2nd December 2015
The Mayors and CEOs of the cities of Joondalup, Stirling and Wanneroo visited Parliament House to promote the Tri Cities Alliance to senior members of the state opposition.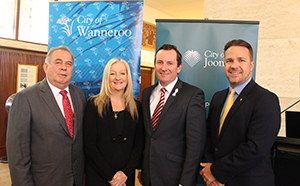 Their joint presentation showcased the region and highlighted the needs of the growth coast, which is experiencing rapid increases in population.
City of Wanneroo Mayor Tracey Roberts said the northern growth corridor accounts for almost 30 per cent of Perth's population, more than 573,000 residents.
"Our combined population will surge to 750,000 by 2031and the predicted population growth will require the creation of 90,000 new jobs," Mayor Roberts said.
"We are a thriving region, therefore it is very important that we continue to be innovative and strategic in our planning.
"The Tri Cities Alliance focused on job creation, road, rail, tourism, education innovation and housing infrastructure – it is of critical importance that members of the state opposition are fully aware of the needs of our fast growing region. These are key issues that impact upon the lifestyle of our residents."
More articles in the news archive.