Yanchep kangaroos update
Published Friday, 9th December 2016
The City of Wanneroo continues to take action as a facilitator to address the issue of kangaroos gathering in increasingly high numbers in residential parts of Yanchep.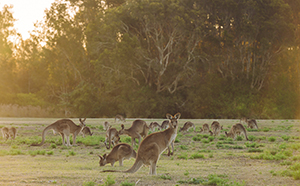 As well as moving kangaroos from within the township, the City is also working to ensure solutions to this ongoing and complex issue.

Last week, the City coordinated a relocation exercise, moving some 60 kangaroos from St Andrews Park to nearby bushland which is in keeping with the wild animals' natural environment.

Contrary to recent social media reports, the kangaroos were not relocated to sand dunes, but are making their way independently from nearby bushland where they were initially relocated. Coastal kangaroos around Australia will spend time in dunes, the coast hinterland, and even on beaches.

Acting CEO Harminder Singh said the City of Wanneroo had engaged specialist contractors to sedate the kangaroos before moving them to the bushland area.
"Our licensed contractors have considerable professional experience in the field of fauna management and the work is carried out before dawn as heat can cause distress to the animals," Mr Singh said.

"However after trialling the relocation, we found it was not successful as new kangaroos were entering the area at a faster rate than they could be removed."
Mr Singh said the City had facilitated an urgent meeting today with the Department of Parks and Wildlife (DPaW) and adjoining land developers to again find solutions to the issue of kangaroos in urban areas.

"This is a difficult and long-running issue but we are focused on facilitating long-term solutions to best manage the situation as compassionately and safely as possible," he said.
"Our role is mainly as a facilitator because we do not have authority over private land or state parklands.

"The challenge is to find a balance between protecting the welfare of the kangaroos while also recognising that they are wild animals in an urban environment. As natural bush animals, kangaroos will find non-urban food and water sources."

Whilst it is recognised that kangaroos are capable of locating food and water sources, the City is seeking permission from adjoining landowners to install water stations in the area as a temporary measure over the summer months.

"On the advice of DPaW, water stations can serve as additional water sources for the kangaroos in the short term so this will be our first priority," said Mr Singh.
"The City will also be working with landowners to ensure that the perimeter fencing is completed and helps retain the kangaroos in their natural habitat."
More articles in the news archive.