Restored artwork returns 'home' to Yanchep
Published Thursday, 16th March 2017
The colourful mosaic on the Fisherman's Hollow amenities block in Yanchep has been restored to its brilliant best, completing refurbishment works on the building.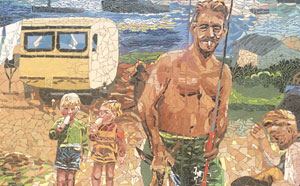 Comprised of thousands of small tiles, the 4.8 metre x 1.2 metre artwork takes a prominent position on the northern side of the amenities block.
The mosaic's original artist, Danka Scholtz von Lorenz, was commissioned by the City of Wanneroo to undertake the restoration, returning the vibrant artwork to a pristine state.
The mosaic intricately depicts life at Fisherman's Hollow, showcasing the history of the area and highlighting the surrounding beach, local wildlife and coastal activities.
More articles in the news archive.