Home
Free Yanchep Park passes launched for City of Wanneroo residents
Published Friday, 8th September 2017
Free annual park passes to Yanchep National Park were released on Friday by the City for residents under a joint partnership between us and the Department of Biodiversity, Conservation and Attractions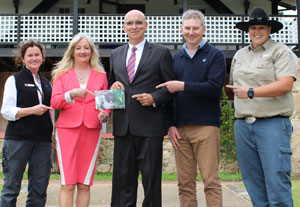 From 1 September, local residents could apply for the free annual pass, which normally retails for $23, via the City's website. The passes were so popular all the online tickets were gone within 24 hours.
"It is important to the economy of our City that we encourage visitors to the region's tourism hotspots," Mayor Tracey Roberts said.
"The money generated from the City's purchase of the passes will be put straight back into Yanchep National Park to help improve the public spaces and create additional facilities for visitors to enjoy."
Residents who were lucky enough to snap up a free pass are encouraged to frequent the park with family and friends, whether they are visiting from local areas, interstate or overseas.
DBCA Swan Coastal Acting/District Manager Brett Fitzgerald said the partnership with the City of Wanneroo was a great way to introduce new local residents to Yanchep National Park.
"We hope that those visitors will use their free annual park pass to make many repeat visits to enjoy the natural beauty and wide range of attractions available."
Yanchep National Park has a large range of activities and sites for visitors to experience, including the koala enclosure, three caves, walking trails, picnic facilities,
Aboriginal education experience, Yanchep Inn, the award winning Chocolate Drops, and more.
The Park has also introduced some exciting new business ventures over the past year, including Airwheels, similar to a Segway, and helicopter flights. The Park has also confirmed the popular camping ground will now be a permanent feature, after
the success of its recent trial.
The free online passes were made available for City residents on a first come basis and although they sold out quickly, a small number are still available through the Civic Centre and Clarkson Library. These remaining tickets need to be applied for in
person.
Residents who were successful in applying for a pass must visit Yanchep National Park and show proof of being a resident or rate payer within the City of Wanneroo by showing a rates payment notice, or a utility bill or driver's license.
For those who missed out on a free pass, the cost to enter the park will be the usual $13 per visiting vehicle or $23 for an annual pass.
More articles in the news archive.