Home
Expression of Interest for lease of office space at Wanneroo Civic Centre
Published Tuesday, 19th December 2017
The City of Wanneroo is seeking initial Expressions of Interest (EOI) from parties interested in occupying vacant areas within the Wanneroo Civic Centre, located at 23 Dundebar Road, Wanneroo.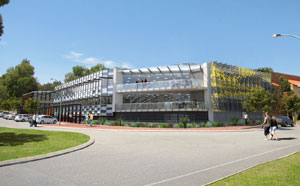 The proposed lease areas are:
The space located on the south-east corner of the existing Civic Centre building, currently occupied by the City's Customer Relations Centre (CRC) for administration purposes; a total leasable area of 138m2 (with no common area), comprising an open plan office area (108m2) and fully self-contained amenities including kitchen and ablutions (30m2). The CRC Site has direct frontage and secured access to Dundebar Road.
Two areas in the new extension of the Wanneroo Civic Centre, with a combined floor space of approximately 1,630m2. Tenancy 1 has a total floor area of 664m2. Tenancy 2 has a total leasable area of 966m2, comprising 917m2 floor space and 49m2 of balcony area. Both Tenancy 1 and 2 are available as separate or combined occupancy. The two spaces are separated by a central foyer/lobby. The foyer/lobby area and ablutions will form the common area (totalling approximately 263m2). External secured access to the common area will be via the Cafaggio Crescent frontage.
The rent will be negotiated under a private treaty arrangement in accordance with section 3.58 of the Local Government Act 1995 and the City's Leasing Policy (available on the City's website under Policies); with the proposed lease areas anticipated to be available for occupancy from 1 July 2018.
Initial expressions are to be forwarded to Heather Atkinson at the City of Wanneroo, Locked Bag 1, Wanneroo WA 6946 or by email to heather.atkinson@wanneroo.wa.gov.au.
Initial Expression of Interest closing: 4 pm, Tuesday 30 January 2018
More articles in the news archive.