Home
Countdown to Queen's Baton Relay
Published Tuesday, 13th February 2018
There are less than two weeks until the Commonwealth Games Queen's Baton Relay comes to the City of Wanneroo.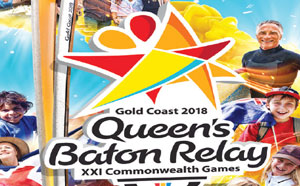 The City is the only local government lucky enough to be hosting community celebrations at two locations - Quinns Rocks and Wanneroo - meaning more local residents will get the chance to be part of this historic event.
The Queen's Baton Relay is a global tradition that celebrates diversity, inspires community pride and aims to excite people about the world-class festival of sports and culture the Commonwealth Games offer.
"The Relay will be the longest and the most accessible ever. Local residents will have the chance to see the baton up close and hear inspiring stories from local baton bearers," Mayor Tracey Roberts said.
"I am very proud that we have two locations where people can be part of the celebrations - I really hope our residents embrace the occasion and are there to witness this special event."
Get involved on the day by cheering on batonbearers along a street near you, or come and see the baton up close at one of the City's community celebrations.
Both locations will have entertainment, food and drinks available while waiting for the baton to arrive.
Quinns Mindarie Foreshore
Quinns Mindarie Community Centre
1 Quinns Road, Quinns Rocks
9.45am - 10.45am (baton arrives at 10.34am)
Entertainment: African drumming, face-painting and children's entertainment.
Jacaranda Amphitheatre
City of Wanneroo Civic Centre
23 Dundebar Road, Wanneroo
11.30am - 12.30pm (baton arrives at 12.09pm)
Entertainment: Challenge Brass Band, kids' activities provided by City of Wanneroo Libraries.
Explore the interactive map and find out the exact times and locations of the baton relay route on the Commonwealth Games website www.gc2018.com/qbr.
Residents are reminded that rolling road closures will be in place as the baton travels through the streets of Quinns Rocks and Wanneroo.
Adequate measures have been taken to ensure minimal disruption for residents.
For more information regarding traffic and celebrations, please visit wanneroo.wa.gov.au/queensbatonrelay.
More articles in the news archive.