Home
City celebrations during Harmony Week
Published Monday, 12th March 2018
The City of Wanneroo is celebrating Harmony Week with exciting events designed to promote multiculturalism and encourage inclusiveness and respect within the community.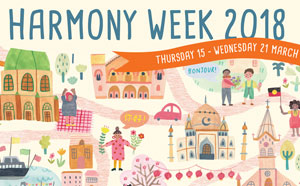 More than 40 per cent of the City of Wanneroo's population were born overseas and 20 per cent of residents speak a language other than English at home, with the most common languages being Vietnamese, Afrikaans, Arabic, Gujarati, Filipino and Mandarin.
Multiculturalism will be celebrated at the City's annual Global Beats & Eats event on 17 March at Paloma Park in Marangaroo, where visitors will be treated to sounds and tastes from around the world.
Kingswood will headline the free event bringing eclectic sounds of old school R'n'B mixed with rock'n'roll and smooth soul. Kingswood will be supported by the popular Jakubi, Hein Cooper and Luke Fox.
A host of food trucks will cater for every appetite with a choice of delicious cuisines including Arabic, French, Indian, Mexican, Spanish, Thai and Vietnamese. Gluten free, vegetarian and vegan options will be available.
A spectacular display of colourful roving musicians and talented dancers will keep the crowds entertained. Children will enjoy the many free activities on offer including drumming workshops, tribal face painting and headband making.
Other Harmony Week events taking place within the City of Wanneroo include:
Storytime at the Clarkson and Yanchep/Two Rocks libraries to teach the City's youngest residents about Western Australia's cultural diversity
It's All About Play at the Banksia Grove Community Centre where parents can bring in their national dish and discuss their cultural background while children play
An information session for new Australians at the Girrawheen Hub, hosted by the Karen Welfare Association, covering a range of social issues.
Mayor Tracey Roberts said she hoped Harmony Week would be embraced by the entire community.
"The City of Wanneroo is a diverse and vibrant community and we aim to offer a variety of events and programs designed to celebrate our multiculturalism," Mayor Roberts said.
"Communities that embrace diversity help create a sense of belonging and harmony for all residents regardless of their cultural, religious, linguistic or ethnic background," she said.
The City of Wanneroo recently surveyed residents about their views on the topics of multiculturalism, reconciliation and disability.
"Survey results are being used to develop the City's existing Access and Inclusion, and Reconciliation Plans and guide our work in these areas," Mayor Roberts said.
Harmony Week runs from 15-21 March each year and is a state government multicultural community relations initiative.
More articles in the news archive.