Home
Clever Tech Reinvents Outdoor Play
Published Tuesday, 13th March 2018
A popular park in the City of Wanneroo will transform into Australia's first "smart playground", in a trial combining digital and physical play for children.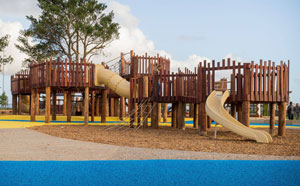 Kinkuna Park in the Eglinton estate of Allara will be turned into a multisensory wonderland of active outdoor fun with Playground Centre's Smart Playground technology. The playground will be fitted out on 20 March 2018.
Parents download a free smartphone app which reacts to markers attached to playground equipment. The markers send instructions for playground games to the smartphone, creating an engaging imaginary scenario combined with outdoor play.
The parent remains in control of the smartphone at all times while their children enjoy the imaginative play.
Mayor Tracey Roberts said the three-month trial had been made possible in partnership with Satterley Property Group and LandCorp who are developing the Allara estate.
"The City of Wanneroo is very proud to host Australia's first smart playground at Kinkuna Park in Eglinton," Mayor Roberts said.
"As a Council we are committed to building healthy, safe, vibrant and connected communities, and our youngest residents are sure to welcome this clever new technology," she said.
"The Smart Playground games have been specifically designed to get children active and playing for longer, while also increasing engagement between children and their families."
The markers do not prevent children from using the playground without the app.
Satterley CEO Nigel Satterley said the company was delighted that Kinkuna Park, which is already equipped with free WiFi, was Australia's first smart park playground.
"We have a lot of young families living in the Allara estate and I am confident that they will take full advantage of the benefits of interactive, outdoor play," Mr Satterley said.
"What makes it better still is that the Smart Playground app remembers what activities children did previously, so new challenges are issued each time they visit, effectively reinventing the park."
Following the three-month trial at Kinkuna Park, Council will decide if the technology should be introduced at other parks in the City of Wanneroo.
Mayor Roberts said visitors to Kinkuna Park, and other members of the community, are encouraged to provide important feedback to the City to assist with Council's decision making processes.
Should the City decide to install the technology at other parks, it will be at a cost of approximately $2,000 per playground.
In addition to encouraging active, outdoor play, the technology will collect data to help the City decide where new playgrounds should be installed and what types of equipment would be best suited.
Kinkuna Park is managed by Satterley Property Group on behalf of the state government's land development agency, LandCorp.
More articles in the news archive.