Home
Aquamotion upgrades get the thumbs up!
Published Thursday, 12th April 2018
Visitors to the Wanneroo Aquamotion aquatic facility are getting dressed in style as the newly refurbished changing rooms opened this week.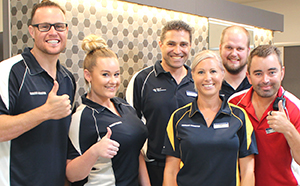 Featuring impressive decor and finishes slick enough to rival The Block, the upgraded facilities include male and female change rooms, a universally accessible toilet and a new parents' room.
Mayor Tracey Roberts said the upgraded amenities were sure to be welcomed by the community.
"The City of Wanneroo is committed to providing facilities that enable our residents to access opportunities such as recreation and leisure aquatic activities, swimming lessons and a heated program pool that contribute to healthy, safe and active lifestyles," Mayor Roberts said.
"Aquamotion member surveys and community consultation highlighted that upgrading the facility's changing rooms was a top priority.
"In particular, customer feedback highlighted the need for a parents' room to accommodate all family members who access the various pools at Aquamotion.
"Council approved the project as part of the Capital Works Program in June 2017.
Mayor Roberts said the upgraded amenities are complemented by new sky lights, improved entry areas, increased air ventilation, and enhanced seating and storage spaces.
The upgrades were designed by Site Architecture Studio, and built at a cost of $580,000 by Geared Construction, three weeks ahead of schedule.
The change rooms are not the only things to be refurbished at Aquamotion lately however.
The heated program pool reopened in March following tiling repairs and replacement. The pool is designed for easy access and suitable for rehabilitation and physiotherapy.
For more information about membership offers and programs available at Aquamotion, visit www.facebook.com/wannerooaquamotion
More articles in the news archive.