Home
City steps up community safety
Published Tuesday, 17th April 2018
Technology is being used by the City of Wanneroo to increase community safety and security.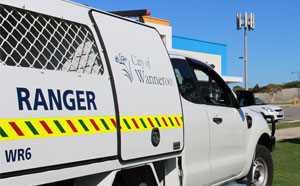 Mayor Tracey Roberts said the City was committed to providing a safe place for residents to live, work and recreate.
"Community safety has been identified as one of the most common feedback topics among our residents, therefore, in response, the City is introducing three new initiatives to provide greater safety and security within our community," she said.
One of the new security measures being introduced is a closed circuit television (CCTV) hub, which will be installed at the Kingsway Regional Sporting Complex by June 2018.
The system is designed to capture high-definition footage of internal roads, entry and exit points and play areas to deter anti-social behaviour, vandalism and criminal activity.
At its meeting in October 2017, Council voted to increase funding to more than $300,000 to maximise the benefits of the CCTV system.
About two-thirds of the funding has come from the Federal Government's 'Crime Prevention through Environmental Design Initiatives, Safer Streets Program.'
The new hub will enhance Kingsway as a safe, family-friendly environment.
The City is also introducing body cameras for Rangers as part of a three-month trial.
"The body cameras are expected to assist Rangers in providing evidence for investigations and court proceedings," Mayor Roberts said.
"This new technology will also provide an additional level of safety for our Rangers who are sometimes subjected to aggressive behaviour from members of the public."
Rangers will advise members of the public whenever they are capturing audio and video.
Importantly, the impact the cameras have on public safety, ranger service improvements and community feedback will be reviewed throughout the trial to determine whether an ongoing arrangement will be beneficial to the City and its residents.
Residents can also now expect to see more Rangers out on patrol as Manheim Australia recently took over the management of impounding stolen and abandoned vehicles in the City.
"This has effectively freed up hundreds of hours enabling Rangers to attend to other call outs," Mayor Roberts said.
The City's Rangers can be contacted 24/7 on 9405 5000 during office hours, or on 1300 138 393 after hours.
Rangers can assist with issues including illegal rubbish dumping, reporting vandalism and lost/stray animals. However, Police assistance is required for instances of hooning, antisocial behaviour, alcohol/drug concerns, registering a party, noise complaints, burglary and assault.
Residents are reminded to contact Police on 000 in an emergency or life-threatening situations, or 131 444 for Police assistance in non-emergency situations.
More articles in the news archive.