Home
Fire Warning Signs
Published Monday, 23rd April 2018
Residents can be sure they are receiving the most up-to-date information during emergencies, with the replacement program of the City of Wanneroo's eight fire danger rating signs now complete.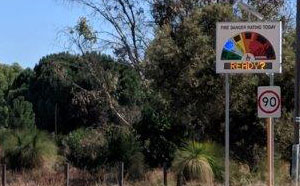 The electronic signs now replace all the traditional manual signs, following the initial trial in 2014 when the City was the first local government in WA to install the new technology.
The automated signs are solar powered and can be updated remotely by the City's staff or volunteer bushfire brigades, allowing immediate emergency warnings to be displayed.
Wanneroo Mayor Tracey Roberts said as well as being highly visible, the signs also have the ability to display relevant seasonal messages.
"The introduction of electronic fire danger rating signs has revolutionised the way motorists and residents are informed during emergencies," Mayor Roberts said.
"They have proved to be more effective than the old manual signs as emergency warnings can be downloaded and displayed immediately, resulting in improved safety for our community, which is absolutely vital.
"With the ability for the signs to be updated remotely, it also saves valuable time for our rangers as they are no longer required to physically attend and update them daily."
Following the initial trial at Gnangara Road, Landsdale and the intersection of Wanneroo Road and Joondalup Drive, a further three locations were upgraded at Marmion Avenue, Jindalee; Wanneroo Road, Yanchep; and Breakwater Drive, Two Rocks in late 2016.
The final piece of the puzzle was completed last week when the remaining three manual signs were replaced at Wanneroo Road, Carabooda; Neaves Road, Mariginiup; and corner of Neaves Road and Old Yanchep Road, Pinjar at a cost of $57,000.
The electronic fire danger rating signs are set up on a compatible Department of Fire and Emergency Services RSS feed, ensuring they are updated with ratings automatically.
More articles in the news archive.