Home
Koondoola Peace Park offers a Place for Commemoration and Reflection
Published Monday, 30th April 2018
The City of Wanneroo is now home to a lasting tribute to those who served in the Vietnam War, with the Peace Park at Koondoola Park, 90 Koondoola Avenue.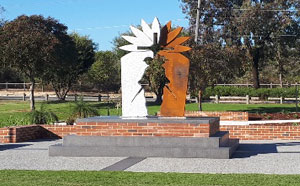 Construction of the memorial was recently completed and was officially opened on Sunday 29 April as part of the Vietnamese Community in Australia (WA Chapter) Black April commemoration - the first event to be held at the new site.
Wanneroo Mayor Tracey Roberts welcomed the Koondoola Peace Park as a place for quiet reflection, as well as a space for commemorative community events.
"The Vietnamese community has played a large role in contributing to and strengthening Australia's multicultural society," Mayor Roberts said.
"In particular, the City of Wanneroo has a very strong connection and is proudly home to a large number of Vietnamese people, so it was very important to honour those involved in this significant part of world history."
The centrepiece of the $262,000 Peace Park is a symbolic public artwork which references the Battle of Long Tan and represents the past, the coming together in the hardship of war and the future, living together in a harmonious community.
Created by Quinns Rocks artist Medhi Rasulle, the artwork is 3 metres high and 2 metres wide, and features panels of corten steel and aluminium to represent Australia and Vietnam.
Vietnam's national flower - the lotus - sits on top of the sculpture, symbolising that something good and beautiful can come from the dissolution of war.
"The artwork is complemented by beautiful landscaping, providing a place for quiet reflection and contemplation for anyone, especially those involved with or who have a connection to the Vietnam War," Mayor Roberts said.
"I whole-heartedly thank the members of the Koondoola Peace Park working group, which included members of the Wanneroo RSL and Vietnamese Community in Australia (WA Chapter) for their valuable contribution to this important project."
Each year Vietnamese communities around the world observe Black April, which refers to the Fall of Saigon on 30 April 1975, and this year the Vietnamese Community in Australia (WA Chapter) observed the occasion on Sunday, 29 April at the Peace Park, a fitting location for the commemorative event.
More articles in the news archive.