Home
Winners of the 2018 City of Wanneroo Community Art Awards and Exhibition
Published Tuesday, 15th May 2018
Christopher Canato has been named the overall winner of the 2018 City of Wanneroo Community Art Awards and Exhibition, taking home the grand prize of $7,500 for his untitled digital photograph.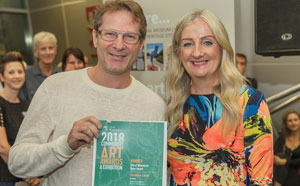 Christopher was one of nine winners whose artistic talents were recognised at the opening event on Friday evening. Each person was awarded a share in the $16,800 total prize pool.
The City received 230 entries, including 148 paintings, 56 works on paper and a record 29 sculptures.
Some 96 artworks were contributed by City of Wanneroo residents. Other entries came from around the state, including Dawesville, Mount Barker and Mount Nasura.
An independent judging panel consisting of Janis Nedela (Artist, Gallery East, Kerry Stokes Collection), Clare McFarlane (Artist, UWA Collection) and Helena Bogucki (Artist and Curtin University Lecturer) had the difficult task of judging entries.
Mayor Tracey Roberts said she was very impressed by the high calibre of entries this year.
"Each year I am inspired by the level of creativity and talent displayed in the Awards, and the 2018 Exhibition is a wonderful demonstration of Art," Mayor Roberts said.
"I am particularly proud that 96 City of Wanneroo residents submitted works this year, accounting for almost half of the total number of entries.
"It reflects the strong and diverse art community we have here in Wanneroo, and these Awards are a wonderful way to showcase the talents of our artistic residents."
Visitors can take part in the judging of the People's Choice Award by nominating their favourite artwork.
The free exhibition will run in the gallery at the Wanneroo Library and Cultural Centre until Friday 22 June, from 10am to 4pm, Monday to Saturday.
2018 Community Art Awards Exhibition
Click below to view the winners of the 2018 competition.
CATEGORIES AND PRIZES:
City of Wanneroo Open Award (acquisitive) $7,500
Artist: Christophe Canato
Title: Untitled
Media: Digital photography
Judges' comments: A standout piece. A high level of technical achievement. A very considered presentation and professional approach.
Best City of Wanneroo Resident $2,000
Artist: Robert Parkman
Title: The Cabin in the Woods
Media: Plywood
Judges' comments: Beautifully crafted. The artwork draws you in and when you engage, you find hidden treasures.
Highly Commended Wanneroo Resident $1,000
Artist: Judy Rogers
Title: Banal
Media: Mixed media
Judges' comments: Poignant subject matter, beautifully presented. A consummate draftsperson.
Painting overall $1,400
Artist: Roseanne Watson
Title: Climbing Julimar
Media: Oil
Judges' comments: An exhilarating painterly surface. A considered palette.
Painting Highly Commended $500
Artist: Ellen Norrish
Title: The Pink Room
Media: Oil on board
Judges' comments: An intriguing artwork documenting a public space. It is competently executed. An opportunity for the viewer to look into the artist's private world.
Sculpture overall $1,400
Artist: A. & H. Alderson
Title: Encountering Wanneru 1834
Media: Local flora/fauna, copper and silver
Judges' comments: Reminiscent of scientific exploration, cabinets of curiosity and natural history drawers, with documentation of the Wanneroo area.
Sculpture Highly Commended $500
Artist: Susan Roux
Title: Migrant Girl
Media: Cast iron, polish, spray paint, thread
Judges' comments: Quirky, humorous and enjoyable.
Works on Paper overall $1,400
Artist: Joanne Duffy
Title: Breath
Media: Oil on cotton rag paper
Judges' comments: Exciting and fresh. The scale of the work is good. It has an impact and brings the viewer into its atmosphere.
Works on Paper Highly Commended $500
Artist: Shona McGregor
Title: Post Reproductive
Media: Laser print, mat board box, ink on Japanese rice paper, cotton embroidery
thread.
Judges' comments: Transverses the world of paper object and maker. It encourages the viewer to engage.
More articles in the news archive.