Home
Let's hear it for volunteers! National Volunteer Week 2018
Published Friday, 18th May 2018
The generous contributions of volunteers across the City of Wanneroo, and across Australia, will be in the spotlight next week, as the City celebrates National Volunteer Week.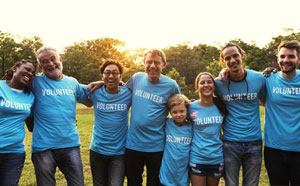 Hundreds of volunteers actively support the City in areas such as community, conservation, culture, heritage and emergency services.
Each year, the City of Wanneroo hosts a series of appreciation dinners to thank its volunteers for their tireless dedication and support.
A function for Community Service and Conservation volunteers was held in March. This will be followed by functions for Emergency Services volunteers in June and July, and Heritage and Library volunteers in September.
Mayor Tracey Roberts said volunteers played a significant role in the City.
"Our volunteers give their time so selflessly and are integral to the community spirit in our City," Mayor Roberts said.
"I would like to take this opportunity to sincerely thank each and every one of them and their supportive families, for everything they do for our growing community."
The Volunteer Resource Centre at the Wanneroo Library and Cultural Centre provides information about volunteer roles available both within the City and through other local community organisations.
The Centre also acts as an advisory service to not-for-profit organisations wanting to learn more about making the most of the services of volunteers.
To find out more about volunteering, visit the Wanneroo Volunteer Resource Centre at the Wanneroo Library and Cultural Centre between 9am – 1pm Monday to Friday, or phone the Volunteer Development Officer on 9405 5935.
Further information is also available via the City's website, wanneroo.wa.gov.au/volunteers.
National Volunteer Week will be celebrated across Australia from 21 to 27 May, to recognise the efforts of our country's volunteers.
More articles in the news archive.