Home
Recycling Facility to take on scrap metal
Published Monday, 21st May 2018
The City of Wanneroo is making it easier for residents to recycle their waste.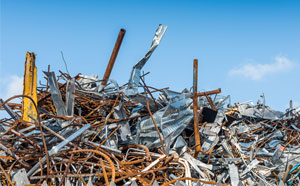 The Wangara Greens Recycling Facility is now accepting scrap metal for recycling, as part of an initial three month trial to gauge community interest.
The facility is open for drop off on weekends only, from 8am to 4.45pm at 70 Motivation Drive, Wangara.
Residents can drop off the following metals for free:
- Steel / aluminium cans
- Fence / roof sheeting
- Car rims (without tyres)
- Old hot water systems
- Domestic pots and pans
- Steel / aluminium furniture
- White goods (except fridges)
- Steel pipes
A limit of one standard trailer (6x4 foot) per resident applies.
Fridges, gas bottles and fire extinguishers (red) are not permitted at Wangara, however can be dropped off for free at Tamala Park or Balcatta Recycling Centre to be safely degassed prior to recycling.
The collection of scrap metal is in addition to batteries (household and car), CFL globes, bulk cardboard, used motor oil, mobile phones and ink printer cartridges, which can all be dropped off for free.
The facility also accepts clean green waste from the public and creates mulch for resale. One hundred per cent of the green waste is recovered, with no residual waste going to landfill.
A voucher (included with annual rates notice) is needed to dispose of green waste, as well as collect mulch.
More articles in the news archive.