Home
City unveils Noongar Six Seasons Interpretative Signage
Published Tuesday, 29th May 2018
The City of Wanneroo unveiled new Noongar Six Seasons signage on the Lake Joondalup Foreshore in Yellagonga Regional Park (Scenic Drive, Wanneroo) at a National Reconciliation Week event on 28 May.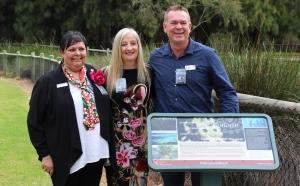 The signage was developed in collaboration with the City's Reconciliation Action Plan (RAP) Working Group and includes information on each of the six seasons in the Noongar seasonal calendar - Birak, Bunuru, Djeran, Makuru, Djilba and Kambarang - as well as information about Aboriginal culture and history within the City of Wanneroo.
"This fantastic project supports the City of Wanneroo's vision for reconciliation," said Mayor Tracey Roberts.
"The City is committed to creating an inclusive community with strong relationships across cultures, based on mutual respect and understanding between Aboriginal Australians and other Australians so that all people are valued and participate fully in our community."
In the coming months, the interpretive signage will also be installed at Marangaroo Conservation Reserve (Decourcey Way, Marangaroo) and Quinns Beach Bushland (Quinns Road, Quinns Rocks).
"I encourage all members of our community to enjoy the walking trails and take the opportunity to view the signage and learn about our City's strong links to local Aboriginal culture and history," said Mayor Roberts.
To commemorate the theme of National Reconciliation Week 2018 - Don't keep history a mystery: Learn. Share. Grow - Aboriginal Heritage signage at Kahana Park in Butler and Palladio Park in Clarkson will also be upgraded.
The City is undertaking a number of other activities and initiatives during National Reconciliation Week and will be working with local primary schools to connect students to local Aboriginal culture. The City's Youth Centres will recognise this year's theme through the sharing of stories, conversations and art activities to emphasise the importance of sharing and acknowledging each other's stories.
As part of the National Reconciliation Week Street Banner Project, a banner will also be installed at Elizabeth Quay showcasing the City's logo alongside this year's reconciliation theme and artwork from WA Aboriginal artist Katie Ward.
National Reconciliation Week runs from 27 May to 3 June annually with the dates chosen to recognise the 1967 referendum (27 May) and 1992 Mabo decision (3 June). You can find more information at www.reconciliation.org.au/national-reconciliation-week.
More articles in the news archive.