Home
Safety boost for Kingsway
Published Friday, 15th June 2018
Security has been stepped up at Kingsway Regional Sporting Complex, with the new CCTV system now switched on.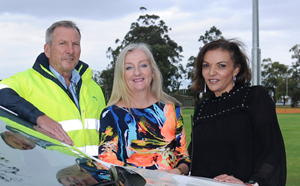 Twelve cameras are operating from seven locations throughout the Madeley complex, providing coverage of internal roads, entry and exit points and playing areas.
Wanneroo Mayor Tracey Roberts said the system was installed in a bid to deter antisocial behaviour, vandalism and criminal activity.
"Kingsway Regional Sporting Complex is used by hundreds of thousands of people each year," Mayor Roberts said.
"The safety and security of our community is a high priority based on resident feedback, and this is just one of many measures the City is undertaking.
"Unfortunately, there have been instances in the past of vandalism and damage to the community assets, which is inconvenient for users and can cost a great deal to be repaired.
"The addition of a CCTV system enhances Kingsway as a safe, family-friendly place to enjoy passive and active recreation, fun and interactive playgrounds and a dedicated dog exercise area."
The project was made possible by a $207,700 grant from the federal government's 'Crime Prevention through Environmental Design Initiatives, Safer Streets Programme'.
The City of Wanneroo contributed the remaining $100,000 to the project.

More articles in the news archive.