Home
Quinns Beach Coastal Management Works on track
Published Friday, 15th June 2018
Residents in Quinns Rocks and neighbouring coastal suburbs will soon benefit from an additional erosion buffer.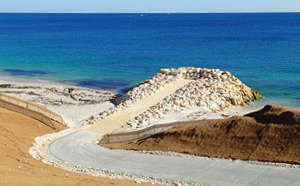 Construction of all major components for Stage 1 of the Quinns Beach Coastal Management Works project is now complete.
The extensive works included construction of a 60 metre groyne at Queenscliff Park and associated beach access ramp to enable vehicle access for maintenance of beaches and coastal structures; beach re-nourishment north of the new groyne and matting of all disturbed dune areas.
"The completion of this work marks a significant milestone for the City in our efforts to combat coastal erosion", said Mayor Tracey Roberts.
"We started this process in September 2014 with the commencement of the Quinns Beach Long Term Coastal Management Study.
"Together with feedback from a comprehensive community engagement programme, data from the study has greatly increased our understanding of sand movements and erosion along the Quinns Rocks coastline and we are confident that these works and those to come will help the City manage the ongoing coastal erosion issues."
Further dune rehabilitation works at the Queenscliff Park site will be carried out throughout June. As part of the project, a beach access staircase will be installed at Fred Stubbs Park in July and another at Waterland Point (northern end of Quinns Dog Beach) in August.
Extensions to the two groynes to the south of the Queenscliff Park groyne and accompanying beach re-nourishment works are planned to begin in November 2018 and November 2019 respectively.
The Quinns Beach Coastal Management Works project is part funded through the Western Australian Government's Department of Transport Coastal Adaptation and Protection grants scheme.
For more information on the Quinns Beach Coastal Management Works project visit wanneroo.wa.gov.au/coastalprojects.
More articles in the news archive.