Home
Hello from Hainsworth
Published Tuesday, 3rd July 2018
The Hainsworth Centre in Girrawheen will open its doors for a Family Open Day during the July school holidays, where visitors can find out about the many activities and programs available at the centre.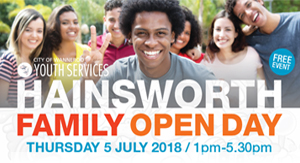 Art and craft, a range of fun sports and outdoor activities, as well as stalls with information from local service providers for young people will all be part of the afternoon of free family fun on Thursday, 5 July.
Mayor Tracey Roberts said the event was being held to encourage young people and their families to visit the centre, meet staff and engage in family activities together.
"Local families are invited to come and view the Hainsworth Centre and experience the many services offered," Mayor Roberts said.
"It's important that people know about the drop-in program that runs during school terms, and meet the staff who are here and available to help in so many ways.
"With an inflatable soccer field, circus tricks and a craft activity focusing on positive mental health, it will be a day enjoyed by many."
Staff from the City's Youth Services, Waste, Libraries and Cultural Development teams will be there, as well as representatives from local youth service providers, including the Edmund Rice Centre, Metropolitan Migrant Resource Centre, Neami National and Headspace.
Food and refreshments will be available.
Event Details:
Hainsworth Family Open Day
Thursday 5 July: 1pm – 5.30pm
29 Hainsworth Avenue, Girrawheen
Free event
The Hainsworth Family Open Day is just one of many activities planned for students throughout the July school holidays.
For more information visit facebook.com/cowyouth or call Youth Services on 9405 5000.
More articles in the news archive.