Home
City celebrates 10 year partnership with Act-Belong-Commit
Published Thursday, 12th July 2018
The City of Wanneroo was recognised for its 10 year commitment to Act-Belong-Commit at a partnership celebration hosted by Mentally Healthy WA.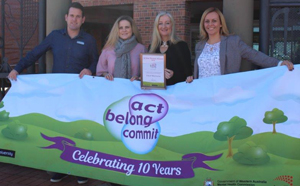 The City of Wanneroo accepted the 10 Year Partner Award, in recognition of the City's innovative and inclusive programs promoting mental health awareness.
The celebration marked the 10 year anniversary of the state wide Act-Belong-Commit campaign launch and a new TV advertising campaign was premiered to mark the occasion.
The City of Wanneroo was one of eight organisations throughout Western Australia recognised for their 10-plus year partnership.
The City has effectively integrated the Act-Belong-Commit ethos into many areas of community life over the past decade, with a focus on bringing people together and creating a sense of unity and belonging in the community.
Mayor Tracey Roberts said the City was proud to have supported the Act-Belong-Commit message since the campaign commenced in 2008.
"The City actively promotes Act-Belong-Commit through programs and events, and provides resources to assist local community groups and organisations," Mayor Roberts said.
"The Act-Belong-Commit campaign strongly aligns with the City's Strategic Community Plan which supports creating opportunities that encourage community wellbeing and active healthy lifestyles."
The City hosts a variety of community events and activities each year, including festivals and gatherings in celebration of NAIDOC Week, Reconciliation Week, Youth Week and Harmony Week.
Thousands of residents came together across the latest City of Wanneroo events season. Most recently, more than 8,000 members of the Wanneroo community joined in the fun and celebrated diversity at the City's annual Global Beats & Eats festival held at Paloma Park in Marangaroo.
The City's Pit Stop health checks are delivered at numerous community events each year to get residents thinking about their mental health.
The Act-Belong-Commit message is also supported through our local volunteer resource and youth programs, and recreation activities at Kingsway Indoor Stadium
More articles in the news archive.