Home
Celebrating our pioneering past
Published Wednesday, 25th July 2018
People who have dedicated more than half a century of their lives to the progress of the Wanneroo community were honoured at the City of Wanneroo Pioneers Luncheon.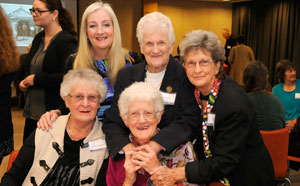 Attended by 56 Pioneers, the annual event was held in the City of Wanneroo Civic Centre.
Wanneroo Mayor Tracey Roberts praised the early settlers and their families for building a thriving community now shared by 210,000 residents.
"This important event recognises our Pioneers and the valuable contribution they have made to the City of Wanneroo," Mayor Roberts said.
"It is our way of saying thank you for laying the foundation for the thriving, successful City so many people now call home.
"It also provides a wonderful opportunity for everyone to catch up with one another and reflect on the early years of Wanneroo."
This year several Pioneers were part of the formalities, including Lucy D'Olimpio providing the pre-lunch entertainment with classic piano tunes, while Angelo Canzirri shared his recollections of the past.
Freeman of the City and fellow Pioneer Margaret Cockman featured in a video highlighting the Queen's Baton Relay in Wanneroo ahead of the Commonwealth Games earlier this year, and a touching slide show with photos from the City's Community History Centre was enjoyed by all.
Up until 2016, residents who lived 50 years of their adult life and made a significant contribution to Wanneroo received Pioneer status, with a total of 262 people receiving the honour between 1975 and 2016.
More articles in the news archive.