Home
The Jungle Giants swing in the City
Published Tuesday, 6th November 2018
The Wanneroo Showground was alive with the sounds of The Jungle Giants on Saturday night, as thousands packed in for the annual City of Wanneroo Presents Concert.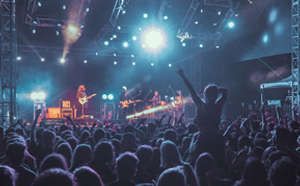 The amazing four-piece band had the crowd in a frenzy as they belted out triple j Hottest 100 hits 'Feel the Way I Do', 'On Your Way Down', 'Bad Dream' and 'Used To Be Love'. Joining The Jungle Giants were support acts Asta, LANKS, Heaps Good Friends and Spacey Jane.
Asta, the 2012 triple j Unearthed High winner, had the audience up on their feet with her uptempo funky sounds and beats.
Australian songwriter, producer and multi-instrumentalist Will Cuming, otherwise known as LANKS, along with his three piece band played a dynamic live show featuring tunes from his debut album 'twentyseven'.
Heaps Good Friends wowed the crowd with their high energy onstage antics and catchy pop sounds.
Local act Spacey Jane turned it up with their drum and guitar heavy pop melodies, including their latest single 'Cold Feet'.
There were also food trucks galore offering tasty treats and plenty of free children's activities.
Mayor Tracey Roberts said she was delighted that the City of Wanneroo could provide such fantastic, family-friendly entertainment.
"It is always wonderful to see so many local people out enjoying all the free events hosted by the City," Mayor Roberts said.
"This year's Presents Concert was a resounding success and I would like to thank all of the bands for their brilliant performances, as well as all the food vendors and activity providers."
The City of Wanneroo thanks event sponsors Nine Perth, Wanneroo Times and Banksia Grove.
To find out more about upcoming events during summer, follow the City's Facebook page or visit wanneroo.wa.gov.au/eventseason and sign up to the events e-newsletter.
More articles in the news archive.