Home
City changes gear on cycling
Published Friday, 21st December 2018
From Koondoola to Two Rocks, the recently endorsed Cycle Plan 2018/19 – 2021/22 aims to connect the City of Wanneroo via a cycling network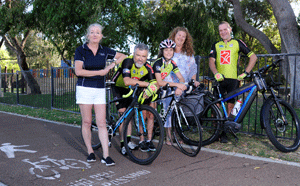 The plan offers safe and enjoyable riding options for residents of all ages and abilities.
City of Wanneroo Council endorsed the Cycle Plan at its meeting on Tuesday 11 December 2018.
More than 46 kilometres of cycle paths will be constructed during the four year plan, with a further 35 kilometres of paths to be upgraded or line marked to ensure a safe and enjoyable journey for even the most inexperienced of riders.
"We received overwhelming community feedback for the City to create a robust cycle network that will allow bike riders to cycle as a viable transport alternative to reach their destination," said City of Wanneroo Mayor Tracey Roberts.
"The plan aims to not only provide a safe cycle network linking residents to existing and new key transport nodes, including the future Metronet Rail line, it will also connect many of the City's wonderful natural attractions and popular shopping and entertainment destinations. Once complete, the City's cycle network will provide City of Wanneroo residents with the opportunity to replace their current primary mode of transport with cycling," said Mayor Roberts.
The first phase of the plan will deliver cycle networks throughout the City and map out the potential for future cycle facilities at proposed Metronet stations at Alkimos, Eglinton and Yanchep.
The new cycle paths will be built in conjunction with major transport projects funded by Western Australian Bicycle Network grants and State Government transport projects including, Mitchell Freeway extensions and the Wanneroo Road duplication project.
The Cycle Plan can be viewed on the City's website www.wanneroo.wa.gov.au or at the City of Wanneroo's Civic Centre and libraries during office hours.
More articles in the news archive.