Home
Local artists celebrated at 2019 City of Wanneroo Community Art Awards and Exhibition
Published Monday, 6th May 2019
Mindarie resident Susan Hoy was named the overall winner, taking home top honours for her exquisite watercolour painting titled Quinns Beach Cottage after Australia Day 2007.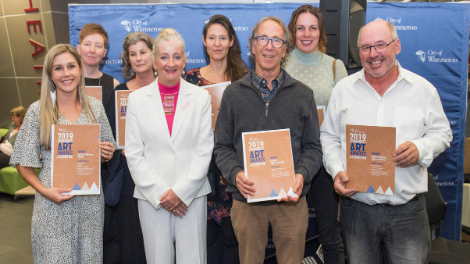 The independent judging panel – consisting of Fremantle Arts Centre Curator Dr Ric Spencer, independent curator and artist Anna Louise Richardson and Mundaring Art Centre and Midland Junction Art Centre Curator Greg Sikich – remarked that Susan's work held "universal appeal" and was "laden with Australian iconography".
A total of nine Western Australian artists were named winners of the 2019 City of Wanneroo Community Art Awards and Exhibition at Friday's opening night. The judges selected artworks of depth and subtlety, which could be revisited by viewers many times over.
With some 230 artworks in the exhibition, over 90 were created by City of Wanneroo residents.
City of Wanneroo Mayor Tracey Roberts said this year's submissions illustrated the depth and breadth of local artistic talent, and applauded all participants for entering their impressive works.
"Once again it is fantastic to see such talent on display, and proud to showcase such a strong and diverse collection at the Wanneroo Gallery," she said.
The exhibition will run in the gallery at the Wanneroo Library and Cultural Centre until Friday 14 June 2019 from 10am to 4pm, Monday to Saturday. Entry is free and artwork is available for purchase.
Come and enjoy a cultural journey and be visually inspired as you view the latest works from Western Australian artists.
Visitors can take part in the judging of the People's Choice Award by nominating their favourite artwork.
To view all the winners and read the judges' thoughts, visit wanneroo.wa.gov.au/artawards.
More articles in the news archive.