Home
Skate park a smash hit with local schoolkids
Published Thursday, 9th May 2019
Since its grand opening last year, the new Banksia Grove Skate Park in Grandis Park has become a popular spot for local children and teens.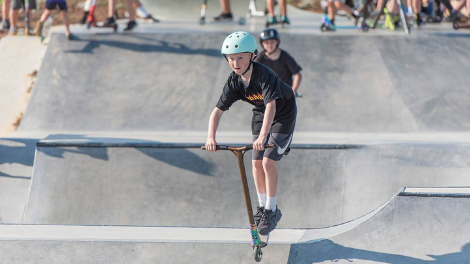 Daily after-school pilgrimages and weekend excursions with a skateboard, scooter or BMX in tow have become a common sight up and down Grandis Boulevard.
Delivered as part of the City's 2018/19 Capital Works Program, the skate park was jointly funded between the City of Wanneroo, Lotterywest and Banksia Grove Development at a cost of $600,000.
City of Wanneroo Mayor Tracey Roberts said the new amenities formed part of the City's vision to deliver facilities which enabled residents to live an active and healthy lifestyle, as well as adding value to local communities.
"It is great to see our young people enjoying the new facilities at Grandis Park and practicing their skateboarding and BMX skills," Mayor Roberts said.
Local high school students from Joseph Banks Secondary College have been taking a break from the books to practice their ollies and alley-oops at the new skate park, with the school's youth support worker Lisa Te Aho initiating an innovative pilot programme for students in years seven to nine.
Run in tandem with skate coach company Freestyle Now and the City of Wanneroo's Youth Working Group, Lisa said the program allowed students to study new skills or build on their existing ones, as well as learning skate park etiquette and personal and community civility.
"The students not only get to work on their skate/scooter/BMX skills, but they are also exposed to skills that are transferable to the classroom, such as seeking feedback and implementing it," Lisa said.
"The skate park has been an incredible addition to Banksia Grove and the Joseph Banks Secondary College school community."
Banksia Grove resident Tarlee Branderhorst said the park had been a huge benefit to her family, with her partner buying his own scooter so he could hang out with their seven and four-year-old sons at the park.
"The kids are outdoors making friends, learning some good life skills and getting some bumps and bruises along the way – it's great," Tarlee said.
Meanwhile, local resident Angela Walker said her nine-year-old son loved the new skate park, riding the rails and scaling the heights on his skateboard nearly every day since it opened last year.
"The older kids try and help the younger, less experienced ones – I know my son has learned a lot from watching and asking questions," Angela said. "It's a brilliant addition to our ever-growing suburb!"
Rachael Woodfield, another resident of Banksia Grove, said the skate park was a welcoming place for her children, who loved having somewhere to go after school to practice their skateboarding and social skills.
"I think it's fabulous – our kids love it," Rachael said. "The older kids are polite, friendly and inclusive of the smaller kids."
Local sporting clubs are reaping the rewards also. Carramar Football Club player Marcus Devitt said the facilities at Grandis Park were a "massive addition to the community".
"The club uses three football pitches and hopefully this will benefit us, with more kids looking to sign up now that we can use the pavilion as a clubhouse," he said. "It's great to see the City spending ratepayer's money within our area and improving facilities – it's for the future of our kids."
More articles in the news archive.