Home
Wanneroo salon recognised for sustainable practices
Published Friday, 10th May 2019
An innovative hair salon has been recognised through a City of Wanneroo sustainability program for their efforts to reduce waste.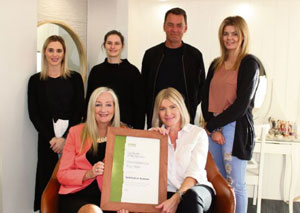 Hennaberrys for Hair have been recognised as a Switched on Business, as part of the Switch Your Thinking program - a local government initiative that encourages sustainable action across Perth.
Mayor Tracey Roberts congratulated the Wanneroo business for their efforts.
"While a lot of their actions may be invisible to customers, Hennaberrys for Hair have made several simple changes that lead to a reduction of waste from the busy salon," Mayor Roberts said.
"From emailing receipts rather than printing, and having a vertical garden outside the salon where ground coffee and tea leaves are composted, they set a great example of what businesses can be doing."
Salon owner Tracey Cottrell understands that reducing waste starts with thoughtful purchasing decisions. Tea, coffee and cleaning products are purchased package-free from the Wasteless Pantry in Greenwood and even the toilet paper is made from 100% recycled paper.
The salon also chooses the sustainable option when it comes to their tools of the trade. They use "Paper Not Foil" for all colouring instead of aluminium foil. The product is both reusable and biodegradable.
The salon also offers low chemical and ammonia free colour options.
"We were one of the first salons in Perth to offer ammonia free hair colour. This focus drove me to pursue the low chemical and vegan product ranges we now stock exclusively, and in turn a passion for sustainability," Ms Cottrell said.
"These things all go hand in hand and I am delighted to be able to make a difference."
Hennaberrys for Hair also participates in Sustainable Salons - a social enterprise that supports salons to divert up to 95 per cent of their waste from landfill.
Salons create a unique waste stream with lots of chemicals, metal and plastic packaging, razors and hair to be disposed of every day. Sustainable Salons collect, repurpose and redistribute these resources, including providing clipped ponytails for use in wigs for those suffering from medically-induced hair-loss conditions such as Alopecia and cancer.
Switched on Business is a Switch your thinking initiative, celebrating sustainability in local business.
More articles in the news archive.