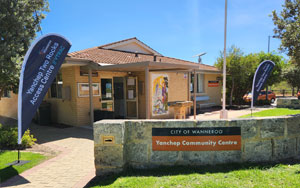 The City of Wanneroo's Yanchep Two Rocks Access Centre (YTRAC) is now located at 7 Lagoon Drive, Yanchep.
The YTRAC offers local residents easy access to City services without needing to drive to the Wanneroo Civic Centre.
Our friendly staff can assist with online City applications and payments such as animal registrations, rates, infringements and facility bookings.
Residents wishing to make City payments can use our online services or visit the Clarkson Library or Civic Centre, from Monday to Friday.
YTRAC opening hours
Monday and Tuesday // 8:30am to 4pm
More information
Phone 9405 5000 or email yanchephub@wanneroo.wa.gov.au