Containers for Change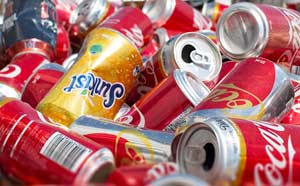 Cash in your containers across the City of Wanneroo
Are you ready to cash-in? From 1 October 2020, residents across the City of Wanneroo can now cash-in their containers for 10 cents. The State Government-led Containers for Change scheme is being rolled out in Western Australia for the first time with over 200 refund points.
Did you know we use over 10,000 drink containers across WA every 4 minutes? Or that 44% of litter thrown can be recycled?
This is a great opportunity for local residents to get involved and help reduce the amount of recyclable material going to landfill.
There are currently nine refund points dotted across the City – with eight of them accessible within a 5km radius.
So what can you cash in?
Not all containers are eligible for a refund, including plain milk containers, flavoured milks 1L and above, pure juice drinks, wine and spirit bottles and cordial containers.
Suitable containers that qualify for a 10-cent refund include; most aluminium cans, glass, plastic, steel and liquid paperboard beverage containers between 150ml and 3L.
Where can you cash in across the City?
Refund depots
Return-it-Clarkson
23-25 Caloundra Road
Scouts WA Recycling Wangara
29 Dellamarta Road
Super Collector Wanneroo
Unit 8, 1387 Wanneroo Road
The Refund Depot – Landsdale
128 Furniss Road
Bag drop locations
Roundabout Recycling
Wanneroo Sports and Social Club - 22 Crisafulli Avenue, Wanneroo
Yanchep Community Men's Shed - 2 Bracknall Road, Yanchep
Super Collector
8 Butler Boulevard, Butler
Unit 12, 1387 Wanneroo Road, Wanneroo
U Can Recycle
40 Green Park Road, Alexander Heights
Pop-up
Recycling Waste Solutions
20 Burbridge Way, Koondoola (Wednesday only)
Recycling Waste Solutions
Bellport Park, Mindarie (Monday only)
So now's the time to get collecting, get involved and cash-in!
For more information on the State Government's Containers for Change initiative, visit containersforchange.com.au/wa.