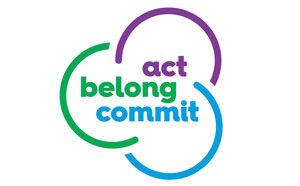 The City of Wanneroo works in partnership with Act Belong Commit to encourage residents to take actions that will help contribute to positive mental wellbeing.
What is Act Belong Commit?
Act Belong Commit (A-B-C) is a health promotion campaign that encourages individuals to take action to protect and promote their mental wellbeing by focusing on three key elements.
The A-B-C message for positive mental health provide a simple approach that anyone can adopt to become more mentally healthy:
Act
keep mentally, physically, socially and spiritually active: take a walk, say g'day, read a book, do a crossword, dance, play cards, stop for a chat...
Need a little inspiration?
Belong
join a book club, take a cooking class, be more involved in groups you are already a member of, go along to community events...
Looking for activities or groups to join?
Commit
take up a cause, help a neighbour, learn something new, take on a challenge, volunteer...
Get involved!
Being active, having a sense of belonging and having a purpose in life all contribute to happiness and good mental health.
For more information and to find program and groups in your area take a look at the A-B-C Activity Finder, go to http://www.actbelongcommit.org.au/
By joining or forming a local community group you can increase your happiness. This is proven in the happiest country in the world, Denmark*, where 90% of citizens belong to a community group or club of some sort.
*World Happiness Report 2016
What is Mental Health?
Mental health is a person's condition with regard to their psychological and emotional well-being and just like physical health it can be good, poor, or anywhere in-between. When your mental health is poor it is referred to as having a mental health condition (such as depression, anxiety or an eating disorder).
In Australia, approximately one in two people will experience a mental health condition in their lifetime*. However, just like physical health, this can change throughout a person's life and there are some very real actions that we can take to manage it- such as those outlined by A-B-C.
*2007 National Survey of Mental Health and Wellbeing
Whether you are looking for support for a friend, or feel you could benefit from improved mental health, there are many services available to help. Your local GP or Health Centre is always a great place to start and a quick visit to the Mental Health Commission website will also provide you with an extensive list of services and resources.
Alternatively, visit one of the useful links below.
Useful links