Adopt a spot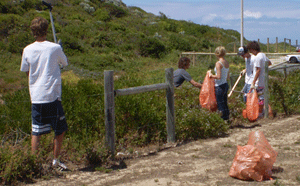 Adopt a Spot for a cleaner environment
Keep Australia Beautiful' s Adopt a Spot program is a simple way for individuals, community groups and businesses to do their bit for a cleaner environment.
Adopting a spot means making the commitment to keep a nominated site litter-free for two years by hosting three to four clean ups per year.
Got a favourite spot you'd like to keep naturally beautiful? Getting involved is easy.
Choose your favourite spot and make the pledge to keep it clean
Arrange a date for your first clean-up. Many hands make light work so get your friends, family and community involved to help.
Ensure to register your clean-up event with Keep Australia Beautiful to receive your FREE clean up kit in the mail (includes gloves, litter bags and tongs).
Get cleaning and make sure to tell us how you went.
Register your clean up or adopt-a-spot
INSURANCE
Keep Australia Beautiful WA provides free insurance to volunteers conducting clean ups through the Adopt-a-Spot program. The City of Wanneroo encourages participants to sign up for this coverage during the registration process.