Buckingham House & the Old Wanneroo School House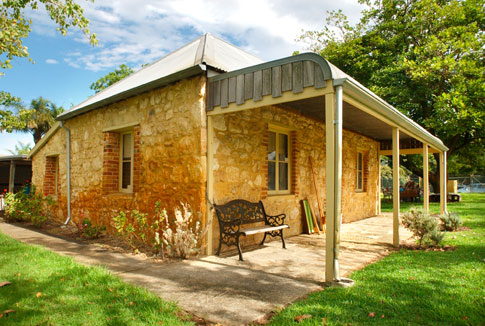 Built between 1880 and 1890 by pastoralist John Buckingham, this four room limestone and iron cottage has been home to prominent Wanneroo families including the Ashby, Tapping, Tognos and Neville families. Following careful restoration, Buckingham House opened as a heritage homestead in 1985. The property has been enjoyed by the community ever since.
We welcome you to visit Buckingham House to discover the Wanneroo of old. See how the families lived in the cottage, explore the dairy and farming equipment used at the site, and learn about the fascinating history of dairying in the City.
While visiting Buckingham House, visitors can step inside the Old Wanneroo School House. The school house opened in 1899, a time when blackboards were the norm and dunce hats were used for discipline.
Virtual Tour
When are we open?
Buckingham House is open to the public every Sunday during autumn (March to May) and spring (September to November) from 10am-12pm. Entry is free.
School groups
Education programs for school children are available Tuesday and Thursday mornings by appointment only.
Education programs
Buckingham House education programs are fully booked for 2023.
Bookings for 2024 will open from September 2023 for City of Wanneroo schools, and November 2023 onwards for other schools.
Buckingham House education programs
For more information contact Heritage Education
Phone: (08) 9405 5920
Email: museum@wanneroo.wa.gov.au
Location
Drop off area
The closest drop off area is at the main gate on Neville Drive. Alternatively, buses can stop at the parking area on Scenic Drive and passengers can walk across Neville Park to the rear gates (adjacent to the schoolhouse).
General parking is available on Scenic Drive opposite Neville Park.
Entry/access
The front section of Buckingham House is wheelchair accessible from the front entrance although larger electric wheelchairs may not fit through the front door. There is a step down from the lounge to the kitchen, and a shallow step from the kitchen to the back area. A pathway provides access around the house and to the schoolhouse. The schoolhouse has ramp access.
Trained Guide or Assistance Dogs
Visitors accompanied by a trained guide or assistance dog or a dog undergoing such training are welcome in this site.
Toilets
The male and female toilets are both wheelchair accessible.