COVID-19 recovery information and updates
With the recent announcement of the State Government's four-phase COVID-19 Roadmap to Recovery, the City will reopen some of its community services and facilities on Tuesday 19 May 2020. Click here to find out more
Home
Water playground a step closer for Kingsway
Published Wednesday, 5th June 2019
The City's youngest residents are sure to enjoy a new aquatic play space at Kingsway Regional Sporting Complex.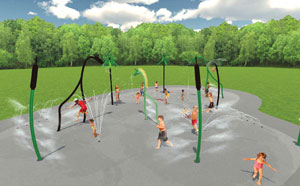 Council awarded the tender at last night's meeting, with construction expected to begin in July.
The aquatic play space has been designed to have a prehistoric dinosaur theme, fitting in with the adjacent and ever popular 'Dinosaur Park' playground.
Similar to the splash pad at Wanneroo Aquamotion, it will provide a range of interactive experiences, with elevated sprays as well as ground sprays and jets.
Mayor Tracey Roberts said it was exciting that this project was a step closer to becoming a reality.
"I know that children from right across the City are eager to have fun at this incredible dinosaur-themed aquatic play space," Mayor Roberts said.
"Work is expected to be completed in late spring, meaning it should be open to enjoy throughout summer.
"The addition of the water playground to Kingsway Regional Sporting Complex will further enhance its reputation as a favourite destination for active families."
More articles in the news archive.