COVID-19 recovery information and updates
With the recent announcement of the State Government's four-phase COVID-19 Roadmap to Recovery, the City will reopen some of its community services and facilities on Tuesday 19 May 2020. Click here to find out more
Home
Sample fresh regional produce with new food and wine trail
Published Tuesday, 11th June 2019
The City of Wanneroo has collaborated with the Shire of Chittering and Tourism WA to launch a trail map to celebrate local farm gate and fresh produce experiences.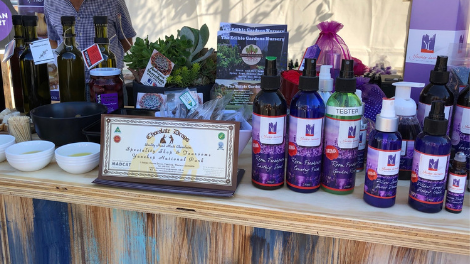 Entitled 'Wanneroo to Chittering - Eat, Pick, Grow Trail', this new initiative features a map highlighting the unique regional produce of the Wanneroo and Chittering areas with a focus on fresh, authentic produce that is either made or grown on site.
Wanneroo Mayor Tracey Roberts expressed her pride in the City's commitment to boosting tourism and employment related to tourism.
"Tourism is an essential part of boosting the local economy in the City of Wanneroo. The new trail map unlocks new and exciting experiences for locals and visitors alike, provides opportunity for local businesses to thrive and generates jobs," Mayor Roberts said.
"The trail is part of the City's strategy to strengthen its reputation as a destination with gourmet produce worthy of international recognition, tapping into a lucrative market to promote our City's fresh, safe, high-quality produce that can be experienced in some of the most beautiful landscapes in the Perth metropolitan region."
"We encourage the businesses listed on the trail to offer visitors a great customer experience, by sharing information about their products and explaining the production process."
Chittering Shire President Gordon Houston said he was very pleased with the results of this unique collaborative project.
"People are increasingly interested in the provenance of their food," President Houston said.
"Local people may even be surprised to find that much of their food is produced in their own backyard.
"This trail gives visitors the chance to trace their produce back to the farm gate, interact with producers and even learn the skills to grow their own."
The Wanneroo and Chittering trail map is one of 18 new trails recently launched by Tourism WA across the state. Businesses listed in the map include:
Chocolate Drops Tearooms
Yanchep Lavender Farm
Jumanga Olives
Perth Mango Farm
Andrews Succulents
Trandos Farm Gate Sales
Berry Sweet Strawberry Farm
Muchea Tree Farm
Thrive Sustainability
Golden Grove Citrus Orchard
The trail map is featured on the Trails WA website, smart phone app and is available from the City of Wanneroo Civic building and Chittering Visitor Centre.
More articles in the news archive.