COVID-19 recovery information and updates
With the recent announcement of the State Government's four-phase COVID-19 Roadmap to Recovery, the City will reopen some of its community services and facilities on Tuesday 19 May 2020. Click here to find out more
Home
City of Wanneroo: Officially A Smart City
Published Wednesday, 12th June 2019
The City of Wanneroo has been recognised nationally for its innovation in developing the 'RailSmart Planning Support System'; a dashboard tool that enables strategic town planning.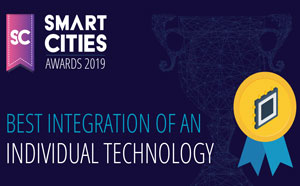 The City was revealed as the winner of the 'Best Integration of an Individual Technology' category as part of the 'Smart Cities 2019 Conference'.
Awards were handed out across six categories, celebrating the greatest achievements in the development, technological advancement and interconnection of cities around Australia with the aim of showcasing some of the best ideas in the sector.
RailSmart draws upon available travel, land use and employment data across the Perth metropolitan area and applies this data to the City of Wanneroo.
The information gathered then informs the City's approach to land use planning, decision making and advocacy while influencing discussions with stakeholders including State and Federal Governments, developers and consultants.
City of Wanneroo Mayor Tracey Roberts said the City was proud to be acknowledged for its commitment to creating progressive, connected communities to enable economic growth and employment as per its Strategic Community Plan.
"We are immensely proud of the RailSmart dashboard," Mayor Roberts said.
"It's the first of its kind when it comes to planning and strategic decision making technology and will enable the City to face the challenges associated with its forecasted rapid population growth."
RailSmart was funded through the Federal Smart Cities program and worked on in collaboration with the Planning and Transport Research Centre, a research body whose members include:
The University of Western Australia;
Curtin University;
Edith Cowan University;
Department of Transport;
Main Roads Western Australia; and,
Western Australian Planning Commission.
"I'd like to thank and acknowledge the project's hard working project team, in particular, project lead Dr Linda Robson, who has worked tirelessly to achieve great outcomes for the City," Mayor Roberts said.
The Planning and Transport Research Centre is now looking at how the City of Wanneroo's dashboard can be modified for use by other local governments around Australia.
More articles in the news archive.