COVID-19 recovery information and updates
With the recent announcement of the State Government's four-phase COVID-19 Roadmap to Recovery, the City will reopen some of its community services and facilities on Tuesday 19 May 2020. Click here to find out more
Home
Smart playground in City of Wanneroo wins second award
Published Thursday, 13th June 2019
An innovative outdoor playground at Kinkuna Park in Eglinton has been recognised in the Parks and Leisure Australia WA (PLA WA) Awards of Excellence 2019.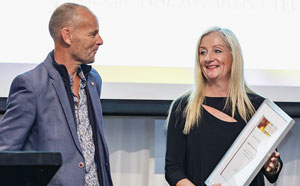 The park was transformed into Australia's first 'smart playground' in March 2018, creating a multisensory augmented reality playground that's become popular with local residents and visitors.
Mayor Tracey Roberts said she is proud that Kinkuna Park received the 'Best Use of Technology' award and is now in the running for a national award.
"The award was a joint nomination and is recognition of collaboration between the City of Wanneroo, Canadian technology company Biba, Satterley Property Group, Landcorp and The Playground Centre.
"Satterley Property Group's bold vision for Kinkuna Park embraces innovative technology and combines outdoor recreation with the latest in digital play and augmented reality.
"Kinkuna Park is strongly aligned to the City's commitment to build healthy, safe, vibrant and connected communities that also enable our youngest residents to thrive and grow," she said.
"Parents download a free smartphone app, which reacts to markers attached to playground equipment. The markers send instructions for playground games to the smartphone, creating a fun, imaginary scenario combined with outdoor play.
"The technology promotes families playing together and parents stay in control of the smartphone at all times while their children enjoy imaginative, active play.
"The app remembers which activities children completed during their last park visit and provides new games, which keeps the play experience fresh, exciting and stimulating."
The national PLA awards ceremony will be held in Perth in October.
Kinkuna Park previously won an award for 'Creating Value through Growth' in the National Growth Areas Alliance Awards in November last year.
More articles in the news archive.