COVID-19 recovery information and updates
The City of Wanneroo is reopening a number of community services and facilities in line with Phase 4 of the State Government's COVID-19 Roadmap to Recovery. Click here to find out more
Home
Stage three works to continue combating coastal erosion
Published Monday, 8th July 2019
Long-term coastal management works to address erosion along Quinns Beach will continue in the coming financial year.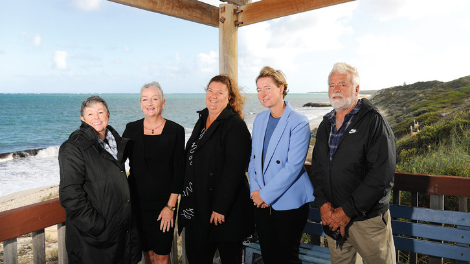 As outlined in the City of Wanneroo's recently adopted 2019/20 budget, $2.1 million has been allocated for stage three works, which encompass the extension of groyne three, near the intersection of Camira Way and Ocean Drive, in addition to extensive beach renourishment works.
The extended groyne will assist with trapping additional sand as it moves up and down the coastline, resulting in a wider beach and an improved buffer against erosion.
City of Wanneroo Mayor Tracey Roberts said the multi-million dollar project was instrumental in alleviating the impact of ongoing erosion to the Quinns Rocks coastline, with winter storms causing substantial wear and tear to the beach before the City implemented measures to save the shoreline a few years ago.
"This project has already had a mitigating effect on sand movements and erosion along the Quinns Rocks coastline and we are confident that these ongoing works will help the City manage the coastal erosion issues."
Vicki Jenkins from the Quinns Beach Long Term Coastal Protection Community Reference Group said she was pleased to see the City's continued commitment to coastal management.
"When I first moved to the area, this beach was a lot higher and a lot wider," Vicki said.
"Erosion is a very gradual thing and I'm glad the City of Wanneroo is defending our coastline by continuing to monitor and manage these coastal issues."
Stage three construction is scheduled to commence in October 2019 and continue into early 2020.
For more information on other key projects, head to www.wanneroo.wa.gov.au/budget2019.
More articles in the news archive.