COVID-19 recovery information and updates
The City of Wanneroo is reopening a number of community services and facilities in line with Phase 3 of the State Government's COVID-19 Roadmap to Recovery. Click here to find out more
Home
City of Wanneroo and Wheatbelt Development Commission partner to boost tourism
Published Tuesday, 9th July 2019
The City of Wanneroo has announced a strategic partnership with the Wheatbelt Development Commission that will strengthen regional tourism and boost the regional economy.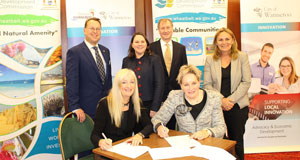 A Memorandum of Understanding (MOU) between the City of Wanneroo and the Wheatbelt Development Commission (WDC) was recently formalised at an official signing event to recognise the partnership.
Minister for Regional Development, Agriculture and Food, Alannah MacTiernan MLC, WDC Chair Rebecca Tomkinson and Acting Chief Executive Gavin Robbins were in attendance along with City of Wanneroo Mayor Tracey Roberts and Chief Executive Officer Daniel Simms to officially sign the document.
The Wheatbelt is a region consisting of 42 local governments, 200 communities and nearly 10,000 small businesses, with the City primarily working with the central coast sub-region, comprising the Shires of Dandaragan, Gingin and Chittering.
City of Wanneroo Mayor Tracey Roberts said the partnership aligned with the City's 'Strategic Community Plan 2017 -2027' to advocate and collaborate for the benefit of the City.
"The Wheatbelt and City of Wanneroo share similar opportunities for growth in agriculture, tourism, strategic investment attraction, health, education and jobs growth," Mayor Roberts said.
"This needs to be underpinned through the strategic planning and development for infrastructure delivery, freight routes, public transport and facilitating innovation across the City of Wanneroo and the Wheatbelt regions.
"By working together on mutually beneficial regional development projects, this partnership will create more agribusiness industry and agritourism opportunities for the City, making it a better place to live, work, visit and invest."
Minster MacTiernan said the partnership was a great example of regional collaboration.
"This strategic partnership will help to deliver infrastructure and services more strategically and will avoid duplication across the high growth northern suburbs and peri-urban Wheatbelt regions," Minster MacTiernan said.
"With strong growth across the peri-urban fringe in both the City of Wanneroo and Wheatbelt infrastructure, service provision needs to be coordinated across both regions."
The MOU will be in place for a term of three years from the execution date, with the option to extend for a further three year term by mutual agreement of both parties.
More articles in the news archive.