COVID-19 recovery information and updates
The City of Wanneroo is reopening a number of community services and facilities in line with Phase 3 of the State Government's COVID-19 Roadmap to Recovery. Click here to find out more
Home
On the Go celebrates City's children
Published Thursday, 11th July 2019
The City of Wanneroo has launched a colourful community book in celebration of the local families who enjoy the It's All About Play program at Clarkson Library.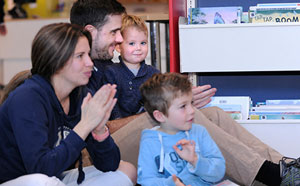 On the Go is an engaging children's book featuring stories and photographs of the families who regularly attend It's All About Play (IAAP) sessions at Clarkson Library.
IAAP is a free, multi-sensory, hands-on program where families with children up to five years of age can play and learn together at City of Wanneroo libraries.
According to Mayor Tracey Roberts, libraries provide the ideal place for parents, carers and children to learn, play, build, read, sing and create.
"City of Wanneroo libraries act as community hubs for our residents, offering safe, welcoming and comfortable locations for our youngest residents to interact, learn and develop," Mayor Roberts said.
"I am delighted that so many local families have embraced the IAAP program, which is a key initiative of the City's Early Childhood Strategic Plan.
"Our goal is to provide learning and development opportunities to ensure that all children in the City reach their full potential."
The On the Go book was launched at Clarkson Library on Saturday 6 July. At the IAAP sessions at Clarkson Library, staff had noticed how many dads attend the program, leading to the theme of this book showcasing the contribution father figures make in their child's development.
Mayor Tracey Roberts read On the Go during the launch and met with families who appear in the book.
The book will now be available to borrow from City of Wanneroo libraries. A book featuring families from the Girrawheen and Wanneroo IAAP sessions is also available.
For more information about IAAP, visit: www.wanneroo.wa.gov.au/childrenandparents
More articles in the news archive.